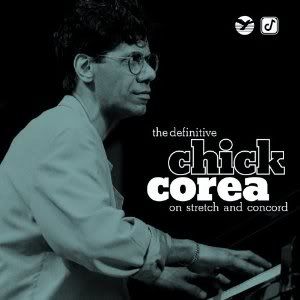 To say Chick Corea is a giant of the modern jazz era would be an understatement. Beginning in the mid 1960s, Corea was a pioneer in the avant-garde jazz movement, accompanying the likes of Miles Davis. He later formed Return To Forever, a fusion group that, over time has counted Stanley Clarke and Earl Klugh among its ranks. More recently, he's had his Elektric and Akoustic bands, his Five Peace Band, his Trios and he has explored solo piano outings as well.
Collecting all this material on two CDs would be an impossible task. In honor of Corea's 70th birthday though, Concord's latest release in its Definitive series covers the last 30+plus years with The Definitive Chick Corea On Stretch And Concord.
Disc one opens with the irresistible "Tap Step." Drummer Tom Brechtlein and bassist Bunny Brunel lock into a danceable groove allowing Corea a fine template for his wild synthesizer solo. "Quartet No. 1" shows off the impressive talents of the late Michael Brecker on tenor saxophone, whose playing on the track is nothing short of staggering.
"Armando's Rhumba" finds Corea on piano, dueting with Gary Burton on vibraphone. Named after Corea's father, the track demonstrates how powerful music made by just two musicians can be if in the right hands. Corea takes to solo piano on "It Could Happen To You," a timeless standard that Corea improvises on in stunning fashion.
Disc two begins with "Blue Monk," A Thelonious Monk classic, featuring Corea on solo piano with Bobby McFerrin providing playful scat vocals. Corea and McFerrin manage to bridge the gap between jazz and blues effectively on the track. Corea's Elektric band features on "Johnny's Landing," a 10-minute-plus opus showcasing the considerable talents of Frank Gambale on guitar while drummer Dave Weckl drives the songs with his potent drums. Corea is in duets mode again — this time with Hiromi — on the Beatles classic, "Fool On The Hill." Together the two pianists take the track to places Paul McCartney likely never dreamed with their wild runs.
Corea's career has been long and varied. To collect it all in one place would be difficult, but The Definitive Chick Corea on Stretch and Concord is a good place to whet one's appetite for the jazz giant's work.