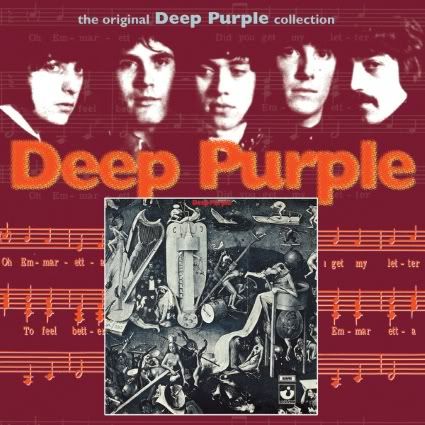 Deep Purple's third and final release from their original lineup was a self-titled affair. Unlike their first two albums, Deep Purple primarily features originals with only one cover song, showing the band's artistic growth. The album has been rereleased on CD with a number of bonus tracks.
Deep Purple leads off with "Chasing Shadows," an infectious rocker with tribal drumming from Ian Paice. Indeed, the song serves as a showcase for the legendary drummer with a lengthy drum outro as well. The sole cover is "Lalena," a reworking of an old Donovan track. It is far mellower than the band's typical fare, opening with Rod Evans' gentle vocals contrasted against restrained guitar and organ parts from Ritchie Blackmore and Jon Lord respectively.
"Fault Line" is a psychedelic instrumental with backward drums and odd sounds that leads directly into "The Painter," a groove-oriented blues track with some fine playing by Blackmore. It's a song that wouldn't be out of place with the Mk. III version of the band featuring David Coverdale and Glenn Hughes. Similarly, "Why Didn't Rosemary" recalls the rhythms of such blues gems as "I'm A Man."
Certainly the most complicated track on the album would be "April," a 12-minute epic with a 9-minute intro featuring extended guitar solos and classical themes. Evans' impassioned vocals don't begin until nearly nine minutes into the song. The song demonstrates the band's remarkable growth in just one year and was a fine way to close the original album and, effectively, the Mk. I version of the band. This would be the last album recorded with Evans on vocals and Nick Simper on bass, who were soon to be replaced by Ian Gillan and Roger Glover respectively.
The CD features a number of bonus tracks, including the single version of "The Bird Has Flown, with its Jimi Hendrix-inspired riff, and live and studio versions of the B-side "Emmaretta."
Deep Purple was the least successful album by the band's original lineup, but it may be their best. The band went on to greater commercial and critical success soon after, but the foundation for it was built on records such as this.