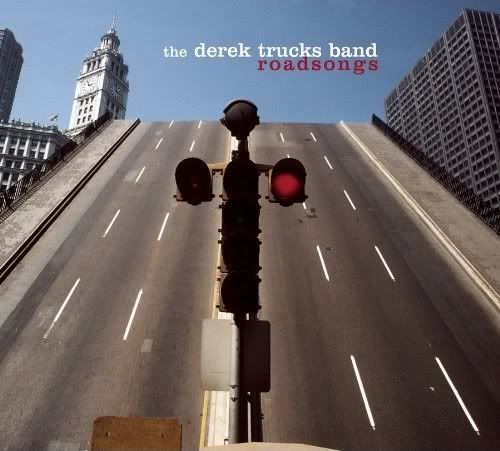 Derek Trucks Band was built for the stage, which is no surprise when you consider Trucks' musical heritage and family. His wife, Susan Tedeschi, is an award-winning singer/guitarist. Trucks has a second job outside his own band, sort of a "family business." The Allman Brothers Band was founded by Duane and Gregg Allman but sadly the only family connection today in the band is that of Derek and his uncle, longtime drummer/percussionist Butch.
DTB bears the ABB hallmark in two immediately noticeable ways. For starters, they are a six-piece band comprised of genius musicians. They have developed the same telepathic sensibilities of the ABB in their ability to not only play the hell out of their own instruments but to play together, to truly feel and sense one another's next move and arrive at the same place at the right time.
The Duane Allman influence on Derek and his band's sound draws as much, if not more, from Duane's collaboration with Eric Clapton in Derek & The Dominos. They perform the Dominos' original "Anyday" to close Roadsongs and also perform "Key To The Highway," a song the Dominos played on the Layla record. DTB's performance of "Highway" shares much more in common with that arrangement than the great Freddie King version that turned Clapton onto the song in the first place. Trucks is well-schooled in the blues and roots and the history of the music but he's still got a rock 'n' roll heart.
The ABB influence is what makes them built for the stage and makes Roadsongs a souvenir DTB fans will eagerly snap up. That influence also masks a flaw in the ongoing saga of the band. Many of their studio recordings feel like heartfelt, well-drawn sketches of songs and ideas to be explored and perhaps completed on the road. You'd think that would only enhance the live shows and that's true, to a point. It also leads to a lot of inspired virtuosity without many memorable songs. There are moments the band sounds like it is trying to breathe life into its material as opposed to amplifying, exploring, and directing the spirt of what already existed, leaving fans amazed by what they witnessed but without a lasting impression. They'll remember Trucks & Co. were great the night they saw them but won't remember the actual greatness.
All that said, there most certainly is actual greatness on Roadsongs, most notably their performance of "Afro Blue," a song made famous by jazz legend John Coltrane. Flutes in rock were a punchline for me after Jethro Tull won a heavy metal Grammy but multi-instrumentalist Kofi Burbridge weaves his flute in a hypnotic, mystical way before returning to his keyboard where he again takes time out front while also supporting the rhythm. Burbridge and Trucks create the sound of Gregg Allman's organ and Dickey Betts' incendiary leads. Trucks dazzles with finesse and power as his rhythm section shifts beneath. Everything there is to like about DTB can be heard on "Afro Blue" and those elements crop up often over the course of this two-disc set.
Dynamic, virtuosic musicianship and telepathic interplay abound and it is, at times, breathtaking but vocalist Mike Mattison is another pleasant, raspy, white dude singing the blues. I love the musicianship and the inspired interplay but it sometimes feels like an awful lot in pursuit of something less.