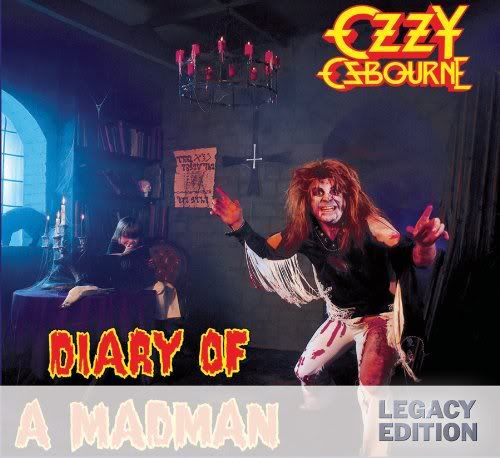 It would be tough to better a solo debut as strong as Blizzard Of Ozz, but to many fans, Ozzy Osbourne may have done just that with its follow-up, Diary Of A Madman. In honor of its 30th anniversary, the album is now available in remastered, expanded form as Diary Of A Madman: Legacy Edition.
Diary was most recently remastered in 2002, but royalty disputes between former band members Bob Daisley and Lee Kerslake and Osbourne's camp led to their parts being redone for the CD by Robert Trujillo and Mike Bordin respectively. The move was controversial to say the least, and the new CD restores the original performances.
In terms of production, the album is vastly superior to Blizzard as it has a much fuller sound. Performance-wise, it may be more diverse as well with Rhoads exploring his classical influences even more this time out.
The album starts strong with three classics of the genre. The opening track, "Over The Mountain," is a guitar masterpiece with its driving riffs and wild solos while "Flying High Again" sings the praises of illicit substances, backed by a massive Rhoads guitar riff.
"You Can't Kill Rock And Roll" is THE battle cry for rockers everywhere and demonstrates Rhoads' seemingly limitless guitar prowess from its ringing, acoustic intro to its bombastic metal chorus. The album's title track blends the metal and classical worlds perfectly with its menacing, yet intricate intro and demented-sounding verses. It's as evil sounding as anything Ozzy did with Black Sabbath and remains a highlight of not only the album, but his career as well. Sadly, the magical partnership between Rhoads and Osbourne was to be short lived as Rhoads — who was afraid of flying, ironically — died in a plane crash. It remains one metal's greatest losses to this day.
While the CD is mastered a bit on the loud side, it is also cleaner and more detailed than previous releases. The Legacy Edition includes a bonus disc of live tracks from the Blizzard Of Ozz tour, minus the talents of Daisley and Kerslake, who had been fired already by this point. The live tracks are a revelation, with Rhoads breathing new life into not only his own songs, but the handful of Black Sabbath classics in the set as well.
The world will never know how many more albums Rhoads and Osbourne had in them, but the two they did still inspire discussion. Adding a bonus disc of live tracks from the era makes an already great album even better and makes Diary Of A Madman: Legacy Edition worthwhile.