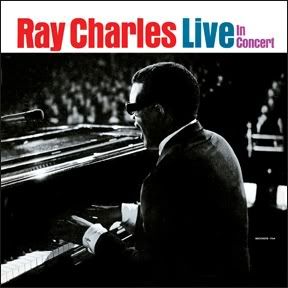 The word genius gets tossed around a lot when referring to musical artists, with some more deserving of the honor than others. When people referred to the late Ray Charles as a genius, however, rarely was it more appropriate. Charles was a master of multiple genres seldom seen before or since, mixing R&B, big band, jazz, gospel, country and rock 'n' roll into a blend uniquely his. After playing with smaller combos throughout the 1950s, Charles assembled a 15-piece band in 1961. Originally released in 1965 as a 12-song album, Ray Charles – Live in Concert, the album has been expanded by seven songs to include the complete show.
The show opens with the big band-inspired instrumental, "Swing A Little Taste," with David "Fathead" Newman and Charles trading blistering solos on saxophone and piano respectively. Charles groans in approval, as if even he is impressed with his virtuosity. A second instrumental, "One Mint Julep," follows with its cool, R&B groove and Charles this time taking the lead on organ. The song was not included on the original LP and is a highlight of the disc.
Charles teases a bit of Beethoven on the piano before adding a slow, bluesy intro to his classic, "I Got A Woman." Charles makes what may seem like an odd juxtaposition between classical and R&B work as neither seems out of place here. Up next is a seven-minute version of "Georgia On My Mind," done achingly slow with Charles' longing vocals punctuated by sparse organ and flute lines. That this was left off the original LP as well seems inconceivable.
"Makin' Whoopee" takes on a heavy blues vibe under Charles' direction with some killer piano playing to boot while Charles delivers a spirited version of the gospel-tinged "Hallelujah, I Love Her So" that dares the listener to try and sit still. Hint - it's impossible.
One has to be great to nickname his or her backing singers after themselves and that's exactly what happens here when the Raeletts take the stage for a number of songs, including "Two Ton Tessie," a humorous ode to a plus size lady. It's the show-closing, signature song "What'd I Say" though that gets the biggest response of all with Charles and his band leaving it all on the stage.
In its original incarnation, Ray Charles - Live In Concert was a must-own album for anyone remotely interested not only in Charles, but in R&B, big band, jazz, gospel, country and rock 'n' roll. The fact the album has been expanded however makes a great disc an essential disc and verifies the genius that was Ray Charles.