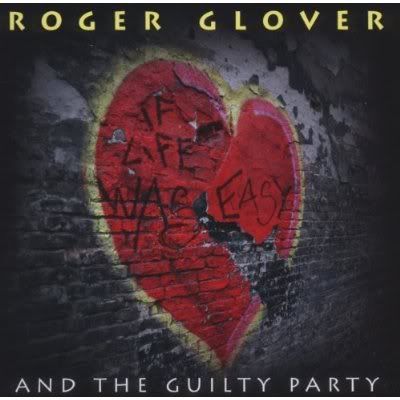 Nine years after their first release, Roger Glover and the Guilty Party are back with If Life Was Easy, an eclectic collection of songs from the legendary Deep Purple bassist. Fans expecting the bombastic hard rock of Glover's main group may be disappointed, but fans with an open mind will find a fine collection of songs.
Album opener, "Don't Look Now (Everything Has Changed)" is a reggae-influenced tune with Middle Eastern overtones. Randall Bramblett takes lead vocals on the track while Glover plays the baglama — a seven-stringed instrument similar to a lute and a sitar that he first found in Istanbul. The instrument helps give the song some of its exotic flair.
Dan McCafferty and Pete Agnew of Nazareth take the vocals on "The Dream I Had," a bluesy rhythm and blues track with some tasty slide guitar by Oz Noy. McCafferty's voice has lost none of its trademark grit to time and he helps make the track a standout on the album.
The album's title track is a funk-influenced track with a menacing lead vocal from Glover. Glover minces no words in this hard-driving song about his divorce. On a more positive note, Glover's daughter, Gillian, sings the ballad "Moonlight," an ode to love that could have come from the early 1960s. The track features Glover on fretless bass and Bramblett with some killer Hammond organ work.
Glover again takes lead vocal on "The Car Won't Start," a song about rolling with life's punches. Inspired by the skiffle music Glover loved as a child, the track is more ska sounding than anything with its bouncy rhythm.
Glover's Deep Purple band mate, Don Airey, guests on "Stand Together," a song that mixes a swamp groove with the blues and features some almost hip hop drum programming during the verses. Bramblett once again features on vocals and Airey plays a pianet, a German electric piano made from the 1950s to the 1970s. The track also features some fine guitar work from Noy.
Roger Glover and the Guilty Party have crafted an enjoyable, eclectic album with If Life Was Easy. One can hope they don't take nine years before the next one.