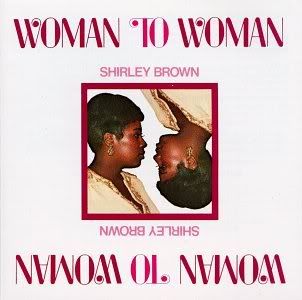 After being discovered by blues legend Albert King at age 14, Shirley Brown served as his opening act on an off for the next 13 years. After a failed single in the early 1970s, King managed to get Brown a tryout with the Stax label where he had some success himself. Recognizing the similarities between Brown's voice and Aretha Franklin's, the label had her record a demo featuring some of Franklin's biggest hits, including "Respect" and "Rock Steady." It was the single, "Woman To Woman," that became Brown's first hit, however, and the title track of her first LP for the label.
And what a hit it was, selling a million records in eight weeks, while hitting number 1 on the R&B charts and number 22 on the Hot 100. It was to be Stax's last major hit through their subsidiary, Truth Records. The song begins with a lengthy spoken word part, with Brown calling "Barbara," a woman whose number she found in her man's pants pocket, to inform her she's not about to give him up and let her "break up her happy home." It's a female empowerment song set to a slow-burning R&B groove.
"So Glad To Have You" mixes a funk bass line with a gospel-tinged chorus. Brown is in fine voice on this irresistible track. Album opener "It Ain't No Fun" is a slow, bluesy number about the frustrations of a partner not returning the other's love. Brown's delivers an impassioned vocal with the listener really sensing her frustration. Another spoken-word part features on this song, with her telling the ladies listening at home that she really did all those things for her man because of love.
Brown pushes her vocals to astonishing effect on the gospel-influenced "I Need You Tonight" while the album closes with the funky "Between You And Me." Throughout the album, Brown shows she's just not a Franklin clone, showcasing her remarkable voice in a number of different styles.
The CD features a number of bonus tracks, including the Franklin covers. Her version of "Respect" isn't that different from Franklin's version, but has more of a rock edge to it. "Yes Sir Brother" features a strong Brown vocal against an infectious funk groove with accompaniment by the Memphis Horns. Brown's cover of Stevie Wonder's "Signed, Sealed, Delivered, I'm Yours" starts out as a slow ballad before going into Wonder's familiar up-tempo version. It's a seven-minute-plus version that never gets old.
Woman To Woman was as impressive a debut as Brown could have hoped for. While she never achieved the same commercial success again, she has had a long, fruitful career and Woman To Woman remains a highlight of both her career and the genre.