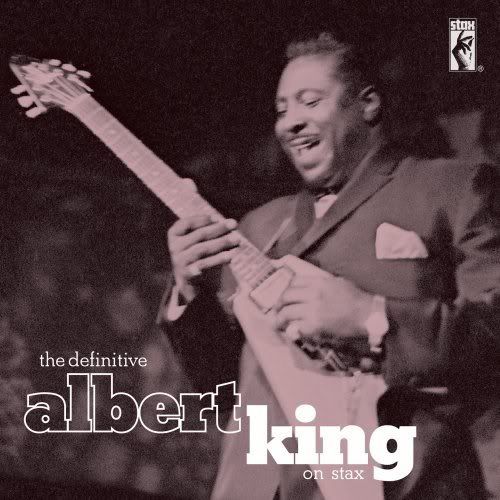 Albert King, along with his namesakes Freddie and B.B., comprise the Three Kings of the Blues. While not the household name today that B.B. is, Albert King is arguably no less influential among blues guitarists with Eric Clapton and Stevie Ray Vaughan among others counted among his devotees. The pinnacle of King's creative and commercial success came when he was on Memphis' Stax Records from 1966-1975, with the best performances from these years captured on the two-disc set, The Definitive Albert King On Stax.
The collection leads off with a song from King's pre-Stax days though with 1961's "Don't Throw Your Love On Me So Strong," an R&B hit with stinging guitar leads playing off Ike Turner's fierce piano. It was a strong sign of things to come with Stax later in the decade.
"Laundromat Blues" finds King lamenting the fact his lady has been meeting her other man at the Laundromat, the anguish in his voice matching the screams of his guitar while "Crosscut Saw" features King's slow bends contrasting against a rumba dance beat.
King's signature "Born Under A Bad Sign" has become a classic of the genre and has been covered numerous times, most notably by Cream. The song, like many others in this collection, features the legendary Stax house band, including Booker T. Jones on piano, Donald "Duck" Dunn on bass, Steve Cropper on guitar and the Memphis Horns. With killer material and players such as these, it was a recipe for success for King.
Guitarists are very fond of their instruments and King was no different. "(I Love) Lucy" finds him singing to the ladylove of his life — his guitar, Lucy. While King takes the vocals on the majority of the songs, "Tupelo (Pt. 1)" features Pop Staples. King adds some fine guitar leads over Cropper's swamp-like groove instantly transporting the listener to the Deep South. Cropper takes a rare vocal turn on "Water," a more contemporary-sounding song from the era.
Disc two opens with "Everybody Wants To Go To Heaven," with King musing about how people only want the good things in life without working for them, ultimately saying, "Everybody wants to go to heaven, but nobody wants to die." King contributes some impassioned leads over John Gallie's organ backdrop. The song is a major highlight in a collection filled with highlights.
Taj Mahal's "She Caught The Katy And Left Me A Mule To Ride" has an infectious groove with King's fine lead playing contrasting nicely with the slide guitars of the rhythm track. King's "Match Box Blues" from the legendary Wattstax concert finds King on top of his game with killer leads and a massive, fuzzed out tone that recalled yet another King disciple, Jimi Hendrix.
As King progressed through the 1970s, many of his songs took on elements of soul and funk music with fellow Stax artists, The Bar-Kays providing rhythm for King's impassioned leads. "Playing On Me," another song about a cheating lady is a fine example with accompaniment by not only the Bar-Kays, but also The Memphis Horns and, on background vocals, Hot Buttered Soul. "I Wanna Get Funky" could be an Isaac Hayes or Barry White tune, yet it, like "Playing On Me," still retains all the signature elements of King's playing.
King continued to perform until his death in 1992 at age 69. He had a unique style that influenced countless other guitarists and a killer catalog of material with A-level musicians backing him. The fact the lefty often played right-handed guitars upside down and didn't restring them to be left-handed makes his prowess all the more amazing. For fans wanting a nice overview of King's career, The Definitive Albert King On Stax is a good place to start.