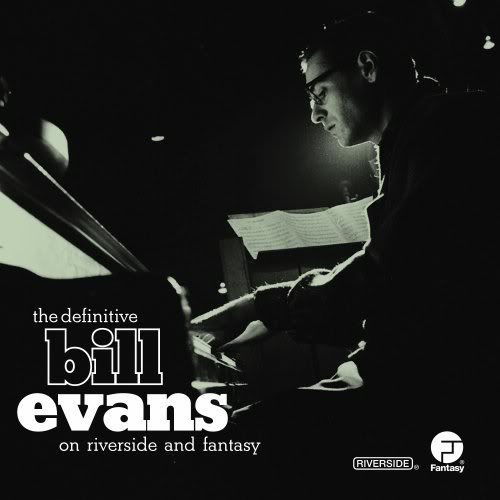 Bill Evans was one of the great innovators of modern jazz piano. It's no stretch to say he's had at least some influence on virtually every pianist to follow his innovative lead. From his days with the Miles Davis sextet to his years as a solo artist, Evans accomplished more than most in terms of furthering his genre. The Definitive Bill Evans On Riverside And Fantasy collects 25 tracks from a 21-year period from this jazz legend.
Disc one opens with "Speak Low" from New Jazz Conceptions and it is clear from the outset that Evans was to be pushing the boundaries of what the piano could do. At once percussive and melodic, it was a stunning display of virtuosity. In contrast, the unaccompanied piano of Evans' original, "Peace Piece," ably demonstrates Evans gift for melody.
A number of live tracks recorded at the Village Vanguard in New York City in 1961 are included, including an emotional take on "My Foolish Heart" by the Bill Evans trio. The trio tackles fellow piano legend, Dave Brubeck's "In Your Own Sweet Way" with a spirited, bouncy rendition. Evans' playing is spectacular throughout, with no piano run seeming beyond his abilities.
Evans takes to unaccompanied piano on disc two's medley featuring the "Spartacus Love Theme" and Davis' "Nardis." Evans' expressive playing makes the listener forget he or she is only listening to one instrument.
Disc two also features a number of live tracks, including a gorgeous version of Rodgers and Hart's "Isn't It Romantic" with some fine playing by Evans. "Young And Foolish," featuring Tony Bennett on vocals shows both performers in fine form, with a strong vocal by Bennett. Though the pair did two albums together, it is the only track from their collaborations included here.
Bill Evans was a pioneer of jazz piano who could go from the most jarring, extreme playing to the most tear-jerking melodies with seemingly no effort. The Definitive Bill Evans On Riverside And Fantasy serves as a nice introduction to this legend's career.