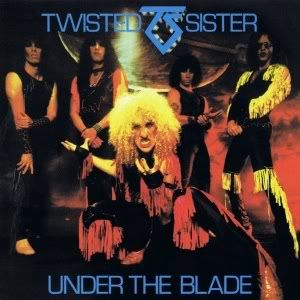 After toiling away in the New York club scene for years, Twisted Sister recorded its first EP, Ruff Cutts, for the U.K. Secret Records label with two tracks produced by Eddie Kramer. That hard-charging release served as a primer for the band's legendary debut, Under The Blade, as three of its four tracks were redone for the album. While the album was later remixed and reissued in the United States with a different cover, it is the original artwork and U.K. mix that most Twisted Sister fans clamor for. That has been rectified with the release of Under The Blade: Special Edition. The new edition contains the original album, all of Ruff Cutts and a DVD featuring a live performance from the Reading Festival in 1982.
The album opens, appropriately enough with Dee Snider screaming, "Good evening! Welcome to our show" on the blistering "What You Don't Know (Sure Can Hurt You)." The intensity is cranked to 11 from the outset and stays that way for the remainder of the album.
Snider's gift for melodic metal is on full display even at this early stage with the catchy "Bad Boys (Of Rock 'N' Roll)," a song that would fit in perfectly during the band's yet-to-come MTV heyday. Along the same lines is the driving "Shoot 'Em Down," another Ruff Cutts track redone for the album.
"Sin After Sin" has a European metal sound not unlike that of Judas Priest while "Destroyer" lives up to its name with a grinding, Black Sabbath-esque riff. The title track is another Ruff Cutts song and remains a staple of the band's live shows to this day. The song later got the band in trouble with Tipper Gore and the PMRC, who misunderstood what "Under The Blade" was about.
As impressive a debut as Under The Blade was, the live show from the Reading Festival is like the album on steroids. The little-known band from America took the stage at the legendary U.K. festival determined to conquer all. The band plays most of the album, as well as an energetic cover of the Rolling Stones' "It's Only Rock And Roll" at a breakneck pace. Throughout the set, fans threw various items at the band, finally provoking a reaction from Snider who asked anyone interested in throwing things at them to meet the band after the show. In addition to the concert, the DVD contains interviews with the band about the making of Under The Blade and remembering The Reading Festival.
Under The Blade shouted Twisted Sister's arrival on the metal scene with its heavy riffs, catchy choruses and powerhouse vocals. It's a strong debut made even better with its bonus cuts and DVD in the expanded Under The Blade: Special Edition and is a must-own for any Twisted Sister fan.