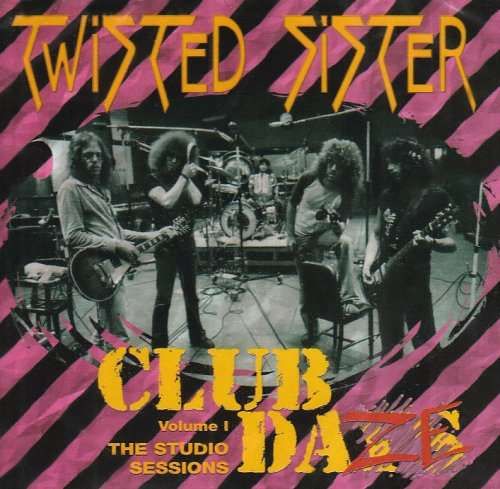 "Rock will live tomorrow, but disco dies today," a defiant Dee Snider sang on "Rock N Roll Saviors," a call to arms for the forces of rock and a standout track on Twisted Sister — Club Daze Volume 1: The Studio Sessions. Originally released in 1999 by Spitfire, The Studio Sessions captures Twisted Sister when they were a hungry New York club band.
While known now for their iconic '80s metal years, the band cut their teeth as glam-influenced '70s hard rockers as evidenced by the groove-laden "Pay the Price" and the rock and roll boogie of "High Steppin'." Snider's trademark raspy, high-pitched vocals are generally absent here with the singer concentrating on the lower end of his vocal range. It works for the songs, but if you're used to Twisted Sister for "We're Not Gonna Take It," it's a bit jarring at first.
Opening track "Come Back" combines a "punky" riff with melodic choruses while "TV Wife" is an amusing ode to a stay-at-home wife and her mundane routine of watching daytime soaps. Written by guitarist Jay Jay French, "TV Wife" is one of the few Twisted Sister songs not written by Snider.
Things get into more familiar territory with 1979's "I'll Never Grow Up Now," a prototype for the Twisted Sister anthems soon to follow with Snider's glam rock influences showing on the big chorus. In 1982, the band released an EP entitled Ruff Cuts in the U.K. Three of the songs from that EP are featured here, including the band's original version of "Leader of the Pack," which while similar to the version recorded for 1985's Come Out And Play, is a little rougher around the edges. Also featured from that EP is "Under The Blade," which has become a signature song for the band.
Not every track is a standout with "Lady's Boy" and "Big Gun" coming across as Alice Cooper and Led Zeppelin knockoffs respectively, but fans of the band will enjoy hearing the evolution of their sound. Twisted Sister — Club Daze Volume 1: The Studio Sessions isn't the place to start for the novice Twisted Sister fan, but any fan with an interest in the band will want to own this disc eventually as it helps paint a complete picture of where they came from.