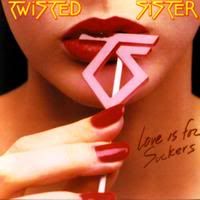 No album divides Twisted Sister's fan base (or even the band itself) more than its final album of all-new material Love Is For Suckers. First released in 1987, the album was intended to be a Dee Snider solo project. The record label refused to release it unless it was branded as a Twisted Sister release though and the album and tour were a failure, with Snider leaving the band shortly after the tour's completion.
It's certainly the most pop of Twisted Sister's albums and owes more to Winger — seemingly once the antithesis of the band — than to past songs such as "Under the Blade." Indeed, future Winger producer Beau Hill is at the helm for this release, with future Winger members Kip Winger and Reb Beach on background vocals and guitar respectively.
In spite of this, the album is not without its merits. The opening track, "Wake Up (The Sleeping Giant)" recalls past Twisted Sister glories with it's driving rhythm and powerhouse vocals. Similarly, the original album's closer "Yeah Right" incorporates a Bo Diddley beat with gang vocals and a driving bass line.
There are a lot of pop songs on this album though with songs such as "Hot Love," "I Want This Night (To Last Forever)" and "You Are All That I Need" sounding more like Winger or Warrant outtakes than Twisted Sister songs. Beach's guitar sound is all over this album with his arpeggiated licks and two-handed tapping and while the songs are competent, often good, pop songs, they have little in common with the Twisted Sister fans had come to know and love. The result is the band's most dated-sounding album.
The CD is a rerelease of the Spitfire version from 1999 and features the same four bonus tracks ranging from the straight-ahead rocker "Feel Appeal" to the crass but catchy "Statutory Date." The band broke up for more than a decade following the release of Love Is For Suckers.
For new fans, Love Is For Suckers is not the place to start when getting into the band, as the album is such a departure from its previous releases. For completists or fans looking for a solid '80s pop-metal album though, Love is For Suckers isn't a bad choice.