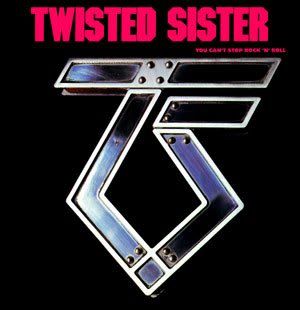 After years toiling away in the New York club scene and the word-of-mouth success of their debut LP, Under The Blade, Twisted Sister was rewarded with a contract from Atlantic Records. The band's first major-label LP, You Can't Stop Rock 'n' Roll, was a bold first step toward superstardom.
The band wastes no time announcing their presence from the driving riffs and powerhouse vocals of "The Kids are Back" to the undeniable groove of "Like a Knife in the Back." This is the sound of a band that, finally getting their chance, intends to prove its worth.
Twisted Sister is known for its fist-pumping anthems and this album has no shortage in that department from the ode to biking "Ride to Live, Live to Ride" to in-concert staples "I Am (I'm Me)" and the title track. Beyond the garish image and comical MTV videos that were to come, this was a band that understood hooks and melody and good song structure.
Surprisingly, the album isn't just about in-your-face rockers. Front man and main songwriter Dee Snider gets a chance to display his softer side on "You are Not Alone (Suzette's Song)," a tribute to his wife.
Originally released in 1983, You Can't Stop Rock 'n' Roll was rereleased by Spitfire in 1999 with three bonus tracks from that time period. Now Eagle Rock, through its Armoury Records imprint, is rereleasing the album with the same bonus tracks. While the content of this disc remains the same as the one released 12 years ago, it is a remaster promising "the same sonic intensity as the band intended for the world to hear."
For fans of '80s heavy metal and hard rock or of melodic rock in general, You Can't Stop Rock 'n' Roll delivers the goods. This is Twisted Sister just before their big success with MTV, but it is no less rocking.