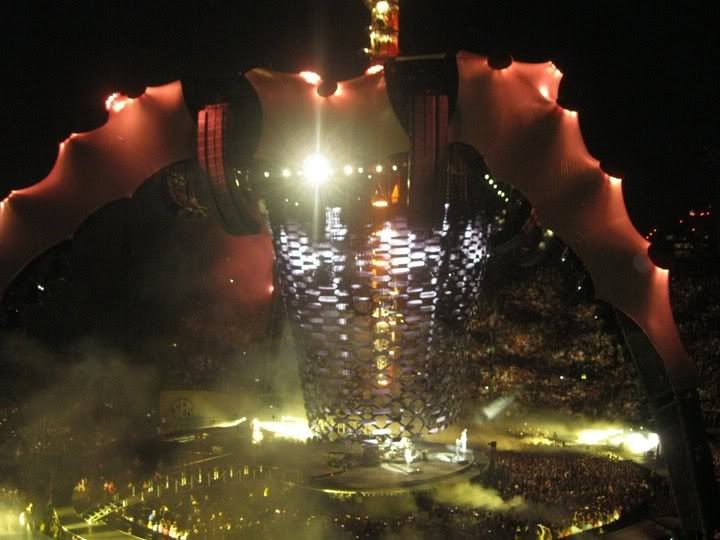 U2 made their first appearance in Music City since December 1981 and for two hours they made up for lost time, delivering a transcendent, magical performance for the ages that left me exhausted, exhilarated, and transformed.
It's hard to imagine 30 years passing without a trip through Nashville by a band that has embraced America the country, and as Bono said repeatedly last night, the idea. Also amazing is last night wasn't supposed to happen at all! The current leg of the tour was supposed to happen last year but emergency back surgery for Bono forced a postponement. That opened this window and while no one would wish that kind of serious injury on anyone, none of the 42,000 packed into Vanderbilt Stadium regretted the result.
A lot has happened in those intervening 30 years: the band that played in 1981 was ambitiously fighting not only for a seat at the table but to get to the head of it. Some would argue – and I have been one of them – the band coming in last night was on their way down from that height but Bono, The Edge, Adam Clayton, and Larry Mullen Jr. were having none of it, bringing a show that combined cutting-edge visuals, passionate performances, and a set list that took fans through the entirety of the U2 catalog. Every album except 1997's Pop was represented last night and even that got a tip of the cap with a snippet of "Discotheque" worked into the end of their remix edition of "I'll Go Crazy If I Don't Go Crazy Tonight."
The show opened with four songs from Achtung Baby, which will celebrate its 20th anniversary this year, followed by "I Will Follow." The first shocker of the evening came at the end of "I Still Haven't Found What I'm Looking For." Just as everyone who comes to my homestate of Alabama feels compelled to play Lynyrd Skynyrd's "Sweet Home Alabama" – as if no one else ever had that idea – everyone who comes to Nashville seems to think they need to pay tribute to the city's country roots. I expected U2 to do something to that effect and thought they'd do a Johnny Cash song, and they did. Sort of.
Bono did a surprisingly good Cash impression and sang the song Cash sang for U2 on Zooropa, "The Wanderer." They went through the first two verses and choruses and my jaw dropped. This song rarely gets touched because it was the inimitable Cash who sang it on the record, not Bono. It damn well got touched last night and I sang every word because my mouth was already wide open from the shock.
My highlights of the show are ones like that, rare and unexpected songs only the most diehard U2 fans will know. "Miss Sarajevo" has been part of previous tours but didn't originate on a U2 album. The Zooropa record sold millions in the US but its title track remained a mystery to large segments of the crowd. "Hold Me Thrill Me Kiss Me Kill Me" was a big hit from the Batman Forever soundtrack but I daresay it was likely unfamiliar to many, as well. They played it first slot out of the encore and its huge riff and the spectacular visuals seemed to make up for any unfamiliarity.
The final shocker of the night came after "Moment Of Surrender," a song the band has closed nearly every show – now 100 of them in the books – of this tour. Bono started talking to a fan in the audience and somehow managed to convince the frontman to let him come on stage and play guitar on "All I Want Is You." At the end of what has to be the highlight of this man's life, Bono gave him a little souvenir: his green Irish Falcon guitar.
That guy's night was probably a little better than mine but I'm not complaining and I can't imagine anyone else was either. This, my third U2, easily eclipsed the other two by a wide margin and another chapter was entered in the eternal anthology dedicated to the power of music in the universe.
Set List
Even Better Than The Real Thing
The Fly
Mysterious Ways
Until The End Of The World
I Will Follow
Get On Your Boots
I Still Haven't Found What I'm Looking For
The Wanderer
Stay (Faraway, So Close!)
Beautiful Day
Elevation
Pride (In The Name Of Love)
Miss Sarajevo
Zooropa
City Of Blinding Lights
Vertigo
I'll Go Crazy / Discotheque
Sunday Bloody Sunday
Scarlet
Walk On
Encore
One
Where The Streets Have No Name
Encore 2
Hold Me, Thrill Me, Kiss Me, Kill Me
With Or Without You
Moment Of Surrender
All I Want Is You