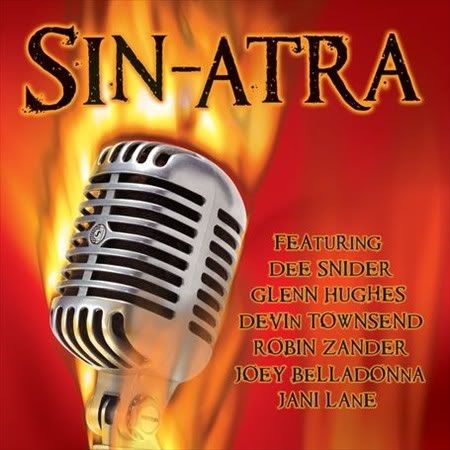 As leader of the legendary Rat Pack, Frank Sinatra had attitude in spades, a fact not lost on Twisted Sister front man Dee Snider. In the liner notes for SIN-atra, an album featuring hard rock and heavy metal covers of Sinatra tunes, Snider calls Sinatra "the original rock star" and proclaims that "if he had come up in the '80s, there is no doubt in my mind he would have been the front man for a heavy metal band!" Bold words for sure, especially considering Sinatra wasn't much of a fan of the metal genre, but does Snider have a point? That is what Sin-atra aims to prove.
With a project such as this, one might expect all of these versions to just be plain ridiculous — and certainly many of them are — but some of the songs work surprisingly well. The band, which includes Bob Kulick on guitar and Billy Sheehan on bass, is top notch, as are many of the singers, allowing for the possibility for open-minded listeners to be pleasantly surprised.
The album leads off with Devin Townshend taking on "New York, New York," and from the outset, it's clear that this isn't your father's Sinatra you are listening to. The song features dropped-D tuned guitars and double kick drums accompanying a way over-the-top vocal from Townshend where he boasts he's "top of the freaking heap." In spite of this, the melody of the song is intact and instantly recognizable, proving that even at its most outlandish; SIN-atra does respect the source material.
Glenn Hughes adds a swampy, blues feel to "I've Got You Under My Skin" that would not be out of place on Black Country Communion's debut album while Robin Zander's take on "Fly Me To The Moon" sounds more Cheap Trick than swing and recalls songs such as "High Priest Of Rhythmic Noise."
Snider's "It Was A Very Good Year" manages to sound like Led Zeppelin's "Kashmir" while maintaining the original's melody and pushing the upper limits of Snider's vocal range. Similarly, Joey Belladonna's take on "Strangers In The Night" at first sounds like Anthrax, but strays surprisingly little from the original melody.
In the radically different category, there's Tim "Ripper" Owens' demonic version of "Witchcraft," which if not for the lyrics would be difficult to identify as a Sinatra song. Similarly, Eric Martin's "The Lady Is A Tramp" veers into the power pop territory of Mr. Big. The most ridiculous however is Frankie Perez's "High Hopes" with its guttural screams and Pantera-like riffs. It's so over the top it's charming in its own way though.
For the Sinatra purist, there's no need to go anywhere near this disc as all it will do is anger them. And while none of these versions will ever make anyone forget Sinatra's originals, for those more open-minded about their Sinatra music, SIN-atra often proves an enjoyable listen with some surprisingly good renditions.