Zoos of Berlin are giving away their new four-song EP Pallister Chant through Bandcamp, making it available to stream or download.
Fellow BlindedBySound writer Heather first turned me on to these guys when she told me her sister was obsessed with them. I instantly conjured David Bowie in my mind before I'd heard a single note from them because I, like many, adore the so-called "Berlin Trilogy" of Low, "Heroes", and Lodger. It was a mental reflex, an involuntary psychic reaction to the name. I listened to a few soundclips, which wasn't enough to give me much of a read on them and I let it go at that. Pallister Chant gave me an opportunity to revisit them for the first time. I don't know how the Detroit quartet will feel about what I'm about this, but that connection grew stronger once I actually listened.
There are plenty of bands from the Beatles, Stones, and Zeppelin camps. Every nerd with a guitar in every coffeeshop in America has spent hours aping Dylan or Joni Mitchell. There have been legions of Sex Pistols and Ramones wannabes. To mimic or borrow from Bowie is a much tougher gig. Hell, great bands can't even turn in a good Bowie cover. Taking his work and assimilating into one's own sound? Forget it. I'm not saying it's never been done, but compile a list of Bowie-school bands and compare it to the lists you can knock out of those others. I'll wait.
The EP's first track, "Haven't Eyes," is also the best. The lead vocal has elements of Bowie's croon and his ability to sound coolly dethatched and disaffected. On a musical level, there are elements from different phases of the Bowie career: Berlin/Eno, Black Tie/White Noise, and the electronic work from the '90s and self-referential 21st century records.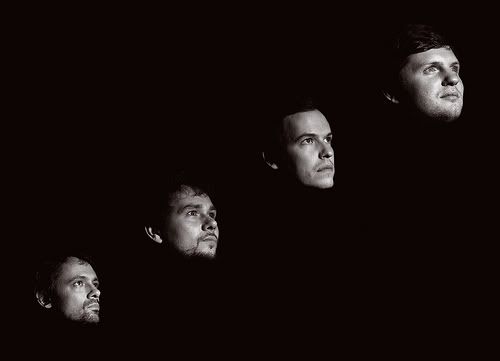 Here's where I stop trying to find a Bowie reference for every oooh, ahhh, blurp, blip, and crash. I can't define the ZoB's style as this is the first time I've listened to them but they achieve a sound on "Haven't Eyes" that is simultaneously polished and lo-fi. The song has a clear hook except that it doesn't, because it's not brought to you through the front door. It's revealed slowly and repeated but there are frequent detours.
"Taramind" also has some Bowie influences of but they're less apparent. The guitars are fuzzed and thick. Vocalists Trevor Naud and Daniel Clark sing in tandem, harmony, and sometimes counter to one another. Rather than a guitar solo, Will Yates' keyboards are pushed up front for a brief instrumental break.
"Sheets of Gold" is just under two minutes but feels more substantial. "Kingston Gates" is barely more than two minutes and opens with voice and percussion before the rest of the band join in. Where "Sheets" feels fully realized, "Kingston" feels like it had more to say. It's not incomplete as presented but the ideas are engaging enough to make you wish for more, which is true of the entire EP.
There's a lot to like in just four songs and 12 minutes. Fortunately, they have a self-titled EP and full-length CD available through their web site so I'll soon have more where this came from because I've ordered both. My Bowie references may please or annoy them, but I'll soon own their entire discography so I'm thinking everybody wins.