For nearly 40 years (albeit with a self-imposed hiatus for much of the 1980s), Patti Smith has mixed her unique blend of poetry, punk, folk and rock and roll, creating something interesting and powerful. She started strongly with Horses, her legendary 1975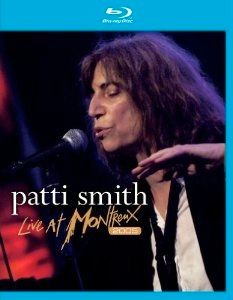 debut, and has continued to push musical boundaries ever since. In 2005 while on tour for her album, Trampin', Smith and her band, which includes original members Lenny Kaye and Jay Dee Daugherty, along with Television's Tom Verlaine in a guest spot, were invited to play the famed Montreux Jazz Festival. The concert was filmed and is now available on Blu-ray as Patti Smith – Live at Montreux 2005.
The band goes back to Horses for its opening number, the reggae-infused "Redondo Beach." From the outset, Smith gives a strong performance, showcasing her unique voice. "Beneath The Southern Cross" features Smith on acoustic guitar, punctuated by subtle leads courtesy of Verlaine and his Fender Jazzmaster. The excellent track builds in intensity throughout.
On "Dancing Barefoot," the band moves into a slow, swamp-like groove. Smith's commands the audience with her presence while Verlaine delivers a fine extended solo. Trampin' is represented here by the stark ballad, "Peaceable Kingdom. Smith offers a restrained vocal on the song.
Smith and her band deliver fine cover versions of "Like A Rolling Stone" and "Not Fade Away/Momento Mori." In a tribute to the song's creators, Smith over annunciates her vocals on the former and does a vocal hiccup in the latter. Both songs feature other band members taking verses and strong guitar work.
Verlaine switches to bass for a rocking rendition of Smith's most well known song, "Because The Night." The song has lost none of its potency to time. On the political activist anthem "People Have the Power," Smith pulls out a snarling lead vocal over a bed of jangly guitars — a powerful way to close out the show.
The video is 1080i High Definition Widescreen 16x9 (1.78:1) and looks fantastic. Audio options include DTS HD Master Audio and LPCM Stereo.
More than three decades on, Smith is still pushing musical boundaries. With her fine band, that translates into inspired live performances. Patti Smith — Live At Montreux 2005 captures one of those performances.