Paul McCartney has always had an old-time sensibility that has come out in his music on numerous occasions. Songs such as "When I'm Sixty-Four" and "Honey Pie" have more to do with the music his father would have grown up with than the songs the Beatles were writing during the 1960s. There's a reason for that – It was the music that McCartney heard as a young child via his father or through parties his family would have when people would get together to sing these songs around the piano.
McCartney had wanted to do an album of standards for a number of years, but others, most notably Rod Stewart, beat him to it and he didn't want to look like a copycat. Finally, in February 2012, McCartney realized his goal and released Kisses On The Bottom, an album of old standards with two new original compositions. That same month, he descended upon the Capitol Studios in Los Angeles to perform cuts from the album with Diana Krall's band. The result is Paul McCartney – Live Kisses, a Blu-ray of the event.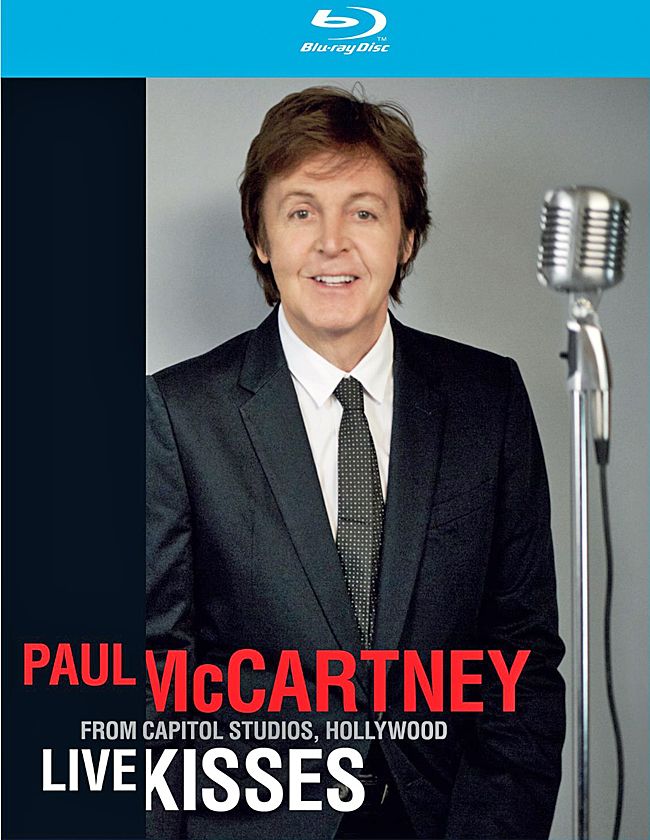 The phrase "kisses on the bottom" comes from a lyric in the album's opening track, a Fats Waller tune called "I'm Gonna Sit Right Down and Write Myself A Letter." That song leads off the live show as well and is a playful version with a tasteful piano solo from Krall. McCartney's drummer Abe Laboriel Jr. provides backup vocals. McCartney is just the singer on this song, preferring to let Krall's band do the playing. In fact, McCartney only plays guitar on "Get Yourself Another Fool," which features Joe Walsh on electric guitar and is a track McCartney hadn't heard previously.
The band offers up a jazzy "It's Only A Paper Moon," which features a strong vocal from McCartney. Judging by the smiles all around, it's clear the band members are enjoying the proceedings as much as the audience. Another track unfamiliar to McCartney was "More I Cannot Wish You," which featured only in the stage version of Guys & Dolls. A poignant track, it deals with a parent talking to a child.
McCartney plays one of his original tracks, "My Valentine," during the show as well. The band offers a strong version, with Joe Walsh replicating Eric Clapton's leads from the album and an excellent vocal from McCartney. The song does not feel out of place amidst all the standards.
The Blu-ray includes interviews with McCartney, Krall, producer Tommy LiPuma, Eric Clapton, Joe Walsh, and Stevie Wonder, among others. The Blu-Ray's extensive liner notes were done by Elvis Costello, who conducted an interview with McCartney. The video is 1080i High Definition Widescreen 16x9 (1.78:1) and looks stunning, mixing black and white and color. Audio options include LPCM Stereo, Dolby Digital 5.1 Surround and DTS-HD Audio.
McCartney had dabbled in the standards genre through his own music for years but never released an album of The Great American Songbook until now. That album showed a great love and respect for the material that carries over to the live performance. McCartney, backed by Krall and her fine band, deliver an excellent performance on Live Kisses.