Peter Gabriel's fifth solo album, So, was the first to have a title (His fourth album was titled Security by the record label in the U.S.). It was also his most successful, spawning numerous radio hits, including "Sledgehammer," "Big Time" and "In Your Eyes," among others. So is the latest entry in the Classic Albums series, taking its rightful place among other great critical and commercial successes.
Like other albums showcased in the series, Classic Albums: So combines interviews with the principal players as well as music critics. Rolling Stone's David Fricke comments that Gabriel wasn't a household name until So and that Gabriel was more of a cult artist. That's debatable as Gabriel kept a fairly high profile post-Genesis and his videos were all over MTV. Still, while Gabriel knew the album was good when they were recording it, he didn't realize how big it would be until the hits started rolling in.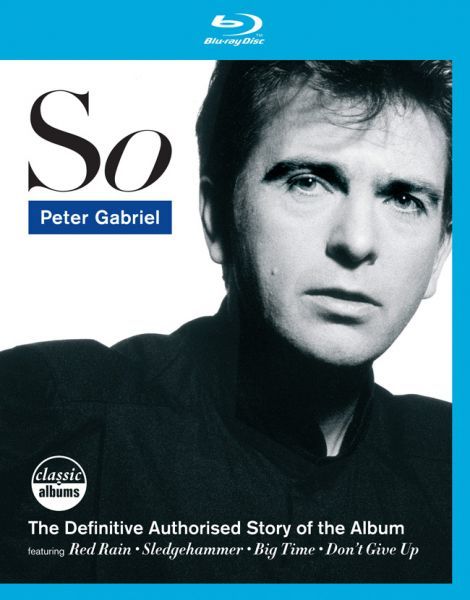 Producer Daniel Lanois is interviewed almost as much as Gabriel and offers some excellent insight into the recording process, implying that the pair butted heads on more than one occasion. Lanois had previously worked with Gabriel for the soundtrack album for Birdy and worked with him later on Us. Lanois does note that Gabriel took a year to make So, and that it was the fastest album he ever made. As in the other Classic Albums Blu-rays, Lanois is shown at the mixing board showing how they put together some of the album's most famous tracks.
In interviews with Gabriel's band members, we learn that drummer took eight takes to get his now classic drum sound down on "Red Rain," and that bassist Tony Levin mimicked the drum pattern on his bass for "Don't Give Up." We also learn that Gabriel's first choice for the female voice in "Don't Give Up" was Dolly Parton, but she wasn't interested. They suspect she didn't know who Gabriel was when he asked. While Gabriel's lyrics often paint a vivid picture themselves, his lyrics to "Mercy Street" were inspired by the poetry of Anne Sexton.
No documentary about So would be complete with a discussion of its groundbreaking videos, most notably for "Sledgehammer." The video is notable for its use of claymation and the fact that everything had to be shot frame-by-frame. When clouds passed by Gabriel's face, they weren't added by computer, as they would be today. Stephen R. Johnson directed and David Sproxton from Aardman Animations were among those bringing this landmark video to life.
The Blu-ray is in 1080i High Definition Widescreen 16x9 (1.78:1) with LPCM Stereo audio. There are a number archival still photos and live footage that aren't as sharp visually as the current footage (obviously), but everything looks great, regardless.
So remains a great pop album and is certainly the most commercial album of Gabriel's career. That said, it is pop by Gabriel's rules and there is plenty of music on it that holds up, making it an ideal candidate for the Classic Albums series.