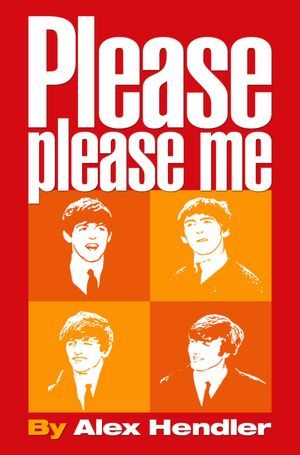 February 11, 1963 stands as an important date in rock history. On this day, the Beatles entered Abbey Road Studios to begin recording songs for their debut album Please Please Me. Due to their tight touring schedule (as well as EMI's desire to capitalize on The Beatles' growing popularity), the group recorded an astonishing ten songs in one day. Their debut now ranks as one of the best rock albums ever released, and firmly established the group's reputation as formidable players and songwriters. What would it have been like to sit in the booth with producer George Martin that day? Author Alex Hendler imagines such an experience in the short book Please Please Me, an intriguing blend of fact and fiction.
While technically listed as "fiction," the book heavily relies on facts to tell the story. Hendler clearly conducted extensive research before writing the text, then constructed the narrative to flesh out the story. This can be a risky approach, but Hendler does not lose credibility. He presents the scenario: The Beatles, still newcomers to formal recording sessions, enter the studio to begin work. Several complications occur: John Lennon and Paul McCartney are battling colds, while Martin copes with the extremely tight schedule. The group also struggle with choosing appropriate material, with Lennon and McCartney having to convince Martin that their original songs rank with their cover songs.
Hendler delves into the minds of all four Beatles, but does so based on factual material. He provides biographical information quite naturally, with Harrison reflecting on how he first met McCartney on the bus riding to school, or McCartney reminiscing about the day he met Lennon at the St. Peter's church fete. This is a New Journalism technique, first made popular by writers such as Tom Wolfe and Truman Capote. While Please Please Me may not function on their level, it still tells a true story using novelistic techniques. For example, while describing the Beatles recording five takes of "A Taste of Honey," Hendler imagines McCartney feeling satisfied with the outcome: "Paul was pleased. This is what made the Beatles, the Beatles. Give them a song, any song, and they could make it soar, as long as everything was a certain way—the posture, the expression, the feeling in their hearts." Obviously no evidence exists proving that McCartney actually had these thoughts. But based on their live shows and past interviews, it can be argued that the group kept this in mind while selecting the album's tracks.
The most anticipated moment of the book occurs in the last few pages, when an exhausted, raspy-voiced Lennon belts out one final song: "Twist and Shout." As many Beatles books have previously chronicled, Lennon took off his shirt, gulped milk, and sucked on cough drops to survive the performance. Hendler heightens the tension by entering Lennon's thoughts: "John picked up his Rickenbacker guitar, raised the strap over his head and placed it over his bare shoulder. Ever since John had started playing, whenever he strapped on his guitar he felt different—protected, stronger, more in control of things—probably similar to how soldiers felt when they strapped on their rifles." Lennon conceivably felt this way as he gathered his strength to sing one last vocal. As he begins, Hendler posits, Lennon believed:
that the voice coming from his mouth was his, but not quite his. He wasn't singing so much as he was screaming—but it was a controlled scream, something raw and primitive that expressed all the urgency he felt that moment—the urgency to make it through the song that, conveniently, could be interpreted as the urgency he felt for the unseen subject of the song.
Hendler writes how toward the end of "Twist and Shout," McCartney "kicked it up an octave" to cover Lennon's deteriorating voice, and the two cried out "yeah!" in victory at the song's end. "Phew! Now that was rock 'n' roll!" Hendler writes. Indeed, that performance earned Lennon acclaim as one of the best rock vocalists in music.
Please Please Me does not reveal any new information for hardcore Beatles fans. However, it serves as an enjoyable, well-researched read, and as close to a fly-on-the-wall experience as listeners can get.