Jimi Hendrix was considered by many to be the greatest rock guitarist who ever picked up the instrument. Hendrix inspired countless guitarists, many who became virtuosos in their own right. One of those players was the late Gary Moore. In 2007, as part of the launch of the Jimi Hendrix Live At Monterey program, Moore performed a set of Hendrix classics with his band and some very special guests at the London Hippodrome. The show was recorded and filmed, and makes up the CD, Gary Moore — Blues For Jimi.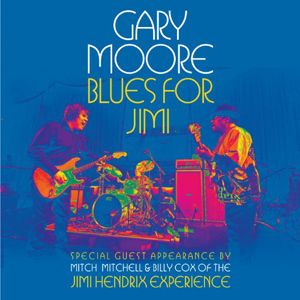 Moore's band, much like the original Jimi Hendrix Experience, was a power trio featuring Dave Bronze on bass and Darrin Mooney on drums. The band delivers a sizzling performance, opening with "Purple Haze." Moore eerily channels Hendrix in this faithful rendition, squeezing every possible note out of his guitar.
The band doesn't let up on "Manic Depression" and "Foxey Lady," making for a lethal opening trio of songs. Moore nails the opening feedback to "Foxey Lady" and cuts loose with some blistering leads of his own at the end that would make the song's author proud. The band slows down the pace a bit with Moore's own "My Angel" serving as a brief instrumental intro to Hendrix's "Angel." Moore delivers a strong vocal with some fine playing on this underappreciated gem in the Hendrix catalog.
Hendrix's former Experience band mates — Mitch Mitchell and Billy Cox — join Moore on drums and bass respectively for a trio of songs beginning with the classic blues of "Red House." Cox and Moore share vocals on the track, with Moore stretching out on guitar. The highlight of their set though is a potent "Stone Free," also with Cox on vocals. This is great music delivered by great musicians. Sadly, Cox today is the only surviving member of the Jimi Hendrix Experience.
Moore's passing in 2011 left a gaping hole in the rock guitar community. On one night in 2007 however, history was made as one guitar great paid tribute to another on Gary Moore — Blues For Jimi.