In late December 1981, Ozzy Osbourne and his band set out on tour for Diary Of A Madman, the second solo album from the former Black Sabbath front man. The tour was legendary from the get-go with a replica castle on stage and a crack band featuring Randy Rhoads on guitar, Rudy Sarzo on bass, Tommy Aldridge on drums and Don Airey on keyboards.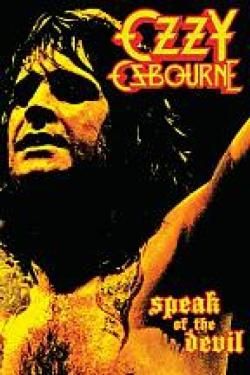 The tour was by all means a success and Osbourne and his new band seemed unstoppable. Then, in March 1982, it all came to an abrupt end. Randy Rhoads was dead. A freak airplane accident had taken one of metal's brightest stars at age 25.
After a three-month break, Osbourne decided to continue the tour, with Night Ranger's Brad Gillis having the enviable task of filling Rhoads' shoes. The band filmed a show in Irvine Meadows, CA, titled Speak Of The Devil, which was broadcast on MTV that Halloween. Originally released on VHS and laserdisc, the show is now available on DVD with remastered audio for the first time.
After Osbourne's dramatic entrance set to "Diary Of A Madman," the band launch into a blistering version of "Over The Mountain." Gillis plays Rhoads' licks fairly close to the album version in one of Osbourne's most powerful tracks — a great opener for sure. Gillis gives the same treatment to the next song, the classic ballad, "Mr. Crowley," staying faithful to the original arrangements. Adding to the atmosphere, a digital bat flies over Aldrige's drum kit in this excellent version.
While Gillis was and is a fine guitarist, the loss of Rhoads became visually apparent during "Suicide Solution." During an extended solo break, Osbourne attempts to pick up Gillis, much like he used to do with the much smaller Rhoads. One can only imagine the emotions Osbourne must have been feeling, having lost his musical partner and architect of his creative and commercial rebirth only a few months earlier.
The show covers songs from Osbourne's first two solo albums, but closes with some Black Sabbath classics. A heavy "Iron Man" flows directly into the driving "Children Of The Grave." Gillis propels the latter in particular with his aggressive playing. The concert ends with a rocking version of "Paranoid."
The picture quality, while not HD, is quite good. The DVD has Dolby Digital Stereo, Dolby Digital 5.1 and DTS Surround Sound options. There are no additional bonus features, though the DVD also includes a booklet with an essay written by Sarzo and photos of the band.
The rhythm section of Sarzo and Aldridge is as good as Osbourne has played with and Gillis did an admirable job filling in for a guitar legend on short notice. While many of Osbourne's vocals were reportedly sweetened in the studio, there is precious little live footage of this era and the performance, long overdue on DVD, makes Speak Of The Devil worthwhile.