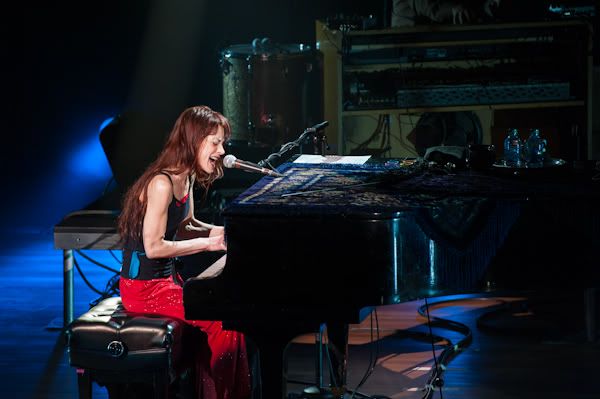 Fiona Apple brought her Idler Wheel tour to Nashville's historic, majestic Ryman Auditorium last night and outside of the shock rockers I'm not sure I can think of another artist who should make a point of playing shows on Friday The 13th.
I've seen dozens and dozens of shows over the years, written countless reviews of them as well as albums, and participated in innumerable conversations about music and over the course of it all I've heard the term "performance art" used in discussion but last night might be as close to witnessing it as I've ever come, especially when one considers this was a show by an artist often labeled as a singer/songwriter.
Apple transformed herself throughout the 17-song set through her movements, facial expressions, the changes in her vocal attack, and movements on stage. At different times she seemed approachable and fully present and aware of the audience and other times seemed lost in another dimension. She could appear innocent and childlike one moment and ferocious the next, fragile and defiant, and there were moments she looked like a satellite orbiting a world a galaxy all her own, separate and far from ours. No matter what character she slipped into, consciously or subconsciously, there was a visceral intensity projected throughout the theater, throughout the night.
It was shocking and powerful considering she introduced herself to the world at such a tender aged with an album of lush, mild-mannered music filled with difficult lyrics and uncomfortable topics. Over the course of three subsequent albums, she became an artist who made records with increasingly off-kilter lyrics and more elliptical, unconventional melodies with unusual instruments. More shocking is the way these songs became rock and roll, with a heaviness in sound not apparent in their studio incarnations.
Apple spent less time behind the piano and more time at center stage as a frontwoman than one might expect, although she moved from one to the other. She opened the show away from the piano with "Fast As You Can" but ended the song behind it, leading into "On The Bound." Both songs had an aggression to them a recurring theme particularly the latter where her guitarist provided thick, snarling backing.
"Shadowboxer," still my favorite Apple song, came third and had a heavier sound on stage than when I first heard those many years ago. It was a stunning performance with a vocal that maintained the vulnerability of the original but age and experience brought more confidence and fury.
The most powerful moment of the night had to be "Get Gone" and "Sleep To Dream." "Get Gone" had lovely dynamics (something the crowd's enthusiasm tried to dampen), opening so fragile and spare before erupting. She completely inhabited the stage on "Sleep To Dream," a hard swagger bringing palpable energy that left her breathless, falling to the floor by the end of the performance and bringing many in the crowd to their feet.
The brilliant quirkiness of "Extraordinary Machine" and its album counterpart "Tymps" translated fantastically live, particularly the latter. "Extraordinary Machine" is another favorite and while it is very much a studio creation, Apple charmed her way through it, delivering the whimsy and determination at the heart of the song. She danced and moved with abandon on the electronic-laden freak out of "Tymps" and again played with dynamics, bringing the song to a barely audible minimalism as her guitarist carefully fingerpicked notes, before spinning back towards chaos.
The new songs from The Idler Wheel were mostly well received with the turbulent lullaby "Every Single Night" and "Anything We Want" getting the most enthusiastic response from the crowd while "Werewolf" and "Daredevil" seemed less familiar although performed with equal skill and passion.
In an era of increasingly disposable music, her fans remember her despite impossibly long gaps between albums because of nights like this. It was an intense, incredible, unforgettable experience, demonstrating much of what makes Apple special and unique. The reclusive Apple doesn't descend into our orbit often so let's hope a live CD/DVD from this tour is on someone's agenda because this tour deserves and demands to be remembered and preserverd.
Fiona Apple - Ryman Auditorium - Fri., July 13, 2012 Setlist
Fast As You Can (When The Pawn)
On The Bound (When The Pawn)
Shadowboxer (Tidal)
Paper Bag (When The Pawn)
Anything We Want (The Idler Wheel)
Get Gone (When The Pawn)
Sleep To Dream (Tidal)
Extraordinary Machine (Extraordinary Machine)
Werewolf (The Idler Wheel)
Tymps (Extraordinary Machine)
Daredevil (The Idler Wheel)
I Know (When The Pawn)
Every Single Night (Extraordinary Machine)
Not About Love (Extraordinary Machine)
Carrion (Tidal)
Criminal (Tidal)
It's Only Make Believe*