The Led Zeppelin "reunion" we always knew could happen, suspected one day might, but with each passing year abandoned hope for finally happened in 2007 and then in the most bewildering fashion, nothing ever came of it. There would be no more shows. There was no discussion of ever releasing this one; it sat there a novelty, a curiosity, a tantalizing precursor to nothing. Until now.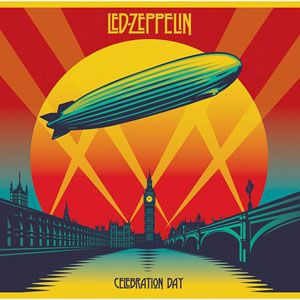 Celebration Day has finally been released, allowing fans the world over to hear Robert Plant, Jimmy Page, and John Paul Jones perform the music they created with John Bonham all those years ago for the first time in ages. Bonham's death effectively brought to an end one of the biggest, most influential bands of all time but for one night, his son sat behind the kit and filled the shoes of his father, recreating a magic too long absent from the music world and make no mistake, this show was nothing less than magical.
This October 2007 show faced a series of impossible challenges ranging from doubts about whether or not the band could come together and put whatever past issues the various members may have had with one another aside and then perform anywhere near the peak of their powers. Could Plant still hit the hight notes? What about the set list? How do you distill a 10 album, legendary discography filled with songs that have bludgeoned classic rock radio listeners for decades and an underrated crop of deep album cuts? So many questions and anticipation and only one chance to answer and meet the challenge. We've all wanted this night and an entire tour of them for so long! Could they possibly be as good as we wanted them to be? You bet your ass... and then some!
Plant's voice isn't the same freak and force of nature it once was and much of the might from its roar has dissipated; it's noticeable but not a problem. To use a sports analogy, he's is like a fireballing pitcher who loses velocity on his fastball and adjusts his game and learns to pitch. He may not be able to hit the piercing high notes with full ferocity but he's a better singer now than he was then. The songs remain the same even if they're played in different keys to accommodate what's left of his vocal range, but Plant is a better singer today than he was at the band's peak and the musicians John Paul Jones, Jimmy Page, and the younger Bonham have no difficulty delivering them, even in different keys to accommodate their singer's changed and diminished range. It's a more than even trade because the music is as muscular as ever and Plant is a better pure vocalist than at any time during their dominant days.
Previous Zeppelin live documents present the band as they were at the time, filled with moments of meandering indulgence and deafening bombast. It's part of their legacy and wholly appropriate to include that in their discography. Celebration Day is by no means skinny, wimpy, or stripped down but they deliver a 2-hour set filled with all the muscle but a more streamlined approach to the music. Page breaks out the bow for his guitar and song lengths stretch but there's no 45 minute drum solo and the set and show are better for it. This is the music of Led Zeppelin, presented with power and precision.
The classics are here and accounted for but let's start with dessert first; "For Your Life" got its world premiere at O2 Arena and this performance makes you wish there were bootlegs of it from the '70s. Bonham brings the thunder while Jones provides funky keyboard accents to Page's mammoth riff and wild guitar leads.
"Good Times Bad Times" surprised me as the opening song of the night but this is one of those nights where no one is going to remember the first song anyway. That's a shame because they sound great and reminded me this is a better song than I remembered. "Black Dog" is one of those moments where Plant's diminished range hurts just a little, particularly in the a capella intro, but still carries the proper swagger. "In My Time Of Dying" is a crown jewel of the Zeppelin epics with its unwieldy mix of blues, Middle Eastern influence, and psychedelic sensibilities. On record and here on stage it teeters between symphonic with multiple movements within the song and meandering mess. It's one of their finest songs and the performance is fantastic.
"Kashmir" has to be one of the five most ripped off riffs in rock history and we may all be a little tired of it but I'll be damned if it can't still bring an arena to its feet and a smile to my face. That's actually one of the amazing things about so much of the Zeppelin catalog- there aren't a hell of a lot of anthems and singalongs the way your Beatles, Stones, Who, and other titans of that era possess. "Kashmir" and "Stairway" are two of their most famous songs and neither has a chorus! "Kashmir" has a riff you can at least hum along to while you wildly play air guitar (okay, that may just be me) but Zeppelin. "The Song Remains The Same" is another highlight from a night that really had nothing but.
It's easy to pick a favorite moment and maybe some fans will find fault with one performance or another but this show was a testament to the enduring power of one of rock's greatest bands and for one night they took that mantle once more and did their legacy proud, proving they could still do it if they wanted to. There were more smiles between these four than one might have expected, the rumors of fractious relationships and occasional swipes exchanged at one another through the press through the years. Real or imagined, it seemed they were generally pleased to be on a stage playing these songs for the first time in ages and it was clear those lucky enough to witness it in person felt the same.