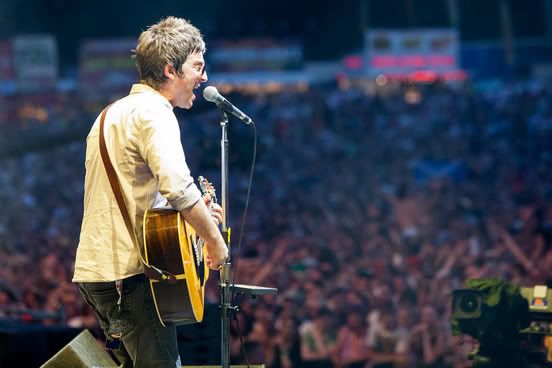 Noel Gallagher has spent the past two years launching his (long awaited) solo career, promoting his High Flying Birds album with an extended world tour. He chronicles this opening chapter of his post-Oasis life with International Magic: Live At The O2, presented on DVD, Bluray, and a deluxe Bluray that includes a CD of demos from the HFB sessions and in so doing likely brings this chapter to a close.
He deftly mixes the bulk of his debut solo record with Oasis hits and B-sides as well as a B-side of his own and one new song.
The pacing and composition of the show is fantastic and the performance practically perfect. It's remarkable a band's B-side can become as well known as some of their hits and be great enough to open a show but "(It's Good) To Be Free" is just that.
"Freaky Teeth" has never been released by Gallagher either with Oasis or since he began his solo career but it's a gem in desperate need of a proper release as a standalone single or inclusion on the next High Flying Birds record. I'm still trying to figure out how "The Good Rebel" didn't make the album proper; both of these are highlights of this O2 show.
I saw two shows in person on this tour and the first of them in Atlanta had a set list identical to this one and yet they both had different feels, both with their own charm. The Atlanta show I attended was in a smaller theater that brought the band closer to the audience and made for an intimate show.
The O2 show is in an arena and the presence of a small horn section and choir brought another dimension to the music as did the larger venue, particularly on songs from his solo record like its opening track "Everybody's On The Run" and "Dream On." Both the horns and choir bring make the Oasis anthem "Whatever" the grandiose, perfect pop song come alive.
Gallagher's dry humour and sharp wit are sprinkled between songs reminding us that while he may not have frontman charisma, his roguish charm is a British National Treasure. He mixes that wit with a bit tenderness as he dedicates "Little By Little" to his daughter near the show's end.
"Don't Look Back In Anger" still gets to me every time I hear it and it seems to be even more true for Britons, who've taken it to heart and made it something of a National Anthem just as they've done with The Kinks' "Waterloo Sunset." It's pop perfection but has taken on an even greater significance in Gallagher's home country.
Live At The O2 is largely free from the annoying conceits that mar most concert films with the performance presented in colour with only a handful of dippy visual effects most directors feel compelled to include in this type of film. There are also the brief offstage interludes interspersed and while they're often amusing and almost funny, they should have been left on the gag reel or integrated when the credits roll rather than breaking up the performance.
Gallagher vowed to take what he describes as a well-deserved rest before we see or hear from him again and while that's no doubt true, the magic and joy of his solo debut and this live performance make it imperative he not make us wait too long before serving up the next helping.
Setlist:
(It's Good) To Be Free
Mucky Fingers
Everybody's On The Run
Dream On
If I Had A Gun…
The Good Rebel
The Death Of You And Me
Freaky Teeth
Supersonic (Acoustic)
(I Wanna Live In A Dream) In My Record Machine
AKA… What A Life
Talk Tonight
Soldier Boys And Jesus Freaks
AKA… Broken Arrow
Half The World Away
(Stranded On) The Wrong Beach
Whatever
Little By Little
THe Importance Of Being Idle
Don't Look Back In Anger