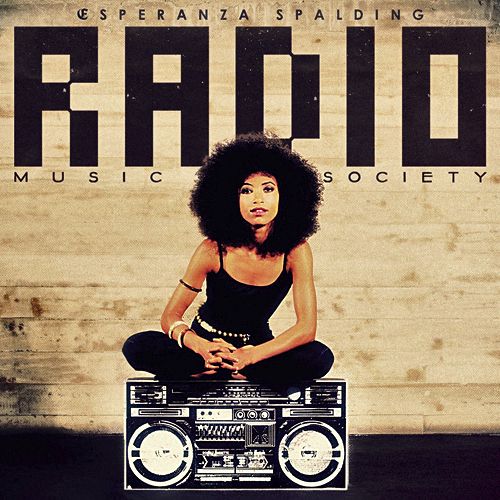 Radio Music Society is Esperanza Spalding's fourth album and follows the highly appreciated and successful "Chamber Music Society" from 2010. At only 28 years of age the sexy and confident Esperanza is already a very accomplished musician, shining not only as a vocalist but also as a bassist and songwriter. In Radio Music Society she goes on to demonstrate that she is more than just a pretty face.
I have a soft spot for decent opening tracks and "Radio Song", an interesting, if "all-over-the-place" tune that does a good job of setting the tone for the entire record, summing up its qualities (the clever intertwining of musical genres, her pleasant voice and more than capable bass playing, and her original approach to her topics) as well as its shortcomings (the somewhat too straightforward lyrics). The record is structured in a very intelligent way: the first tracks, like "Cinnamon Tree", "Crowned & Kissed", "Black Gold" and "I Can't Help It" are instantly catchy and easy-to-love, transcending the Jazz genre and bringing in elements of pop, rnb and soul and even some hip-hop (at times she almost sounds like she is rapping) making it very easy to get into the feel of the record even for those less familiar with Jazz. As the album progresses the songs become, for lack of a better word, more "serious" and complex, culminating with Spalding's bold and, I think, very successful take on Wayne Shorter's "Endangered Species".
A key aspect of the record and one that makes it stand out is Esperanza's songwriting and her pretty ambitious effort in approaching certain topics. The lyrics are, like I stated before, sometimes a bit too straightforward and end up taking away from what could otherwise have been good songs: "Land of The Free" and "Let Her" come to mind. The latter, with its most unfortunate use of "phone conversations" is in my opinion the only weak song on the album, rescued from being terrible only by good instrumentation. But her use of very straightforward lyrics can also yield very positive results as can be seen in great songs like "Black Gold":
Think of all the strength you have in you

From the blood you carry within you/Ancient men, powerful men

Builders of civilization/Hold your head as high as you can

High enough to see who you are, little man

Life sometimes is cold and cruel

Baby no one else will tell you so remember that

You are Black Gold, Black Gold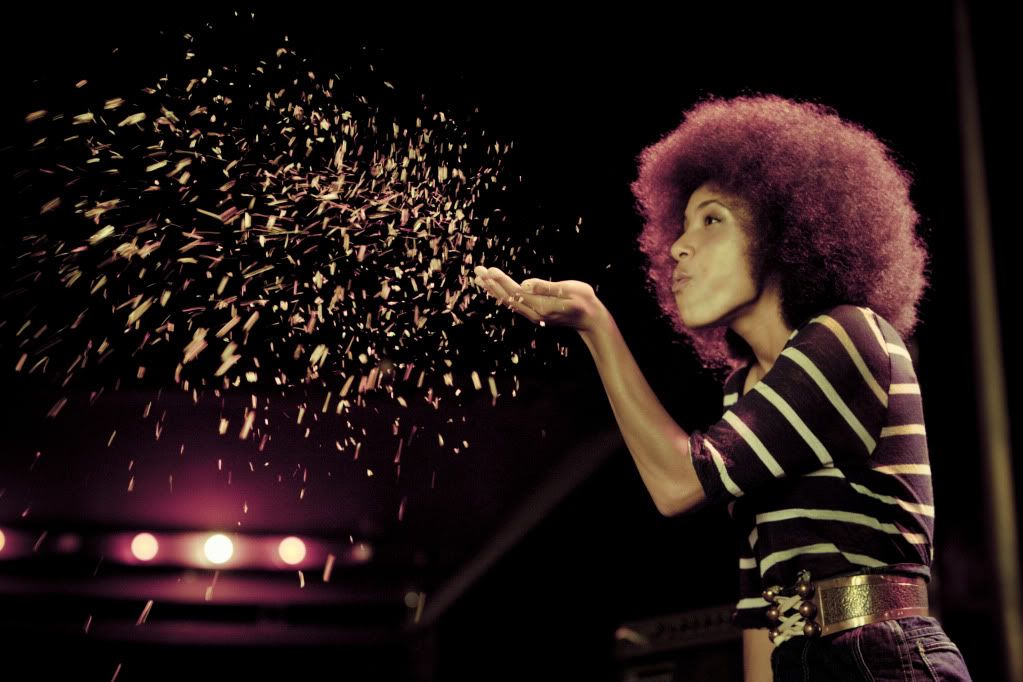 The same is tue of "Crowned & Kissed" (co-written with Algebra Blesset) where Esperanza sings:
Where is the throne

For you, whose tender strength can heal a thousand souls

Everyone you touch turns to gold

Many have tried, but you're the one whose noble touch has gently pried

The sword from my heart

Once you, put a smile on the sun

Once you, paved the road for everyone

And you, shed the worries of another

And you, lay your burdens down

Don't even make a sound, don't worry about a thing

I'm here to love you

My kisses are your crown and I'm your queen"
When Esperanza sings about love and commitment the words carry dignity and strength, a remarkable quality in such a young singer and a far cry from lesser musical declarations such as the abysmal "if you like it then you should have put a ring on it". The album closes off with "City Of Roses" and "Smile Like That", again two instant charmers which are bound to send the listener off with the desire to listen to it all over again. "Radio Music Society" is another impressive offering from Esperanza and, no-doubt, an important step forward on the road to leaving a very serious musical legacy.