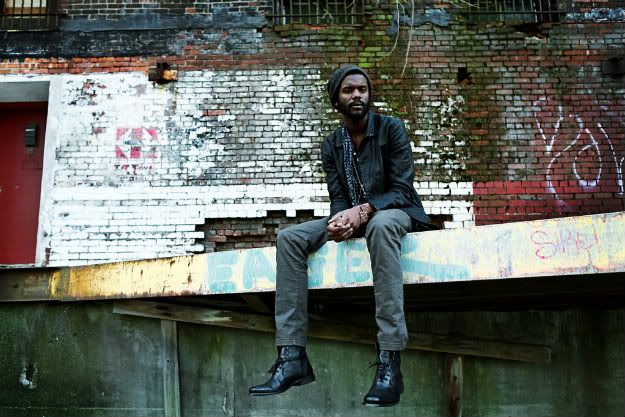 It would have been an impossible task For Gary Clark Jr. to deliver the record I was hoping for, having long ago descended into fanboy obsession and I tried tempering my expectations in the runup to the release of Blak And Blu to avoid the possibility of being disappointed with a record I wanted to and was bound to fall in love with despite any imperfections. That was (mostly) a waste of time because it almost lives up to the enormous, impossible hopes- a near impossible achievement considering how much I've been listening to, writing about, and anticipating this "debut" from this prodigious talent.
Clark's greatest strengths come from his imaginative lead playing and his ability to synthesize a bevy of influences into a daring, coherent artistic vision and those skills are present for most of the album and the material presents a foundation strong enough to showcase that most of the time and it should be; seven of the songs on this album date back to Clark's out-of-print, independently released prior EPs. Some of these new presentations improve on their predecessors -- "Bright Lights," "When My Train Pulls In," "Numb" -- while others are merely updated re-recordings. "Things Are Changing" may have been recorded more often than any song Clark has written; it clearly means a lot to him and its presentation here is strong. His update on "Travis County" is a good time, Chuck Berry-styled rocking boogie woogie that will undoubtedly burn hotter and brighter from the stage.
There's one occasion where the new takes a step back from the original, "Please Come Home." It's a beautiful song featuring a beautiful falsetto vocal from Clark but this version adds an unnecessary string arrangement cluttering the sound and the lead guitar doesn't have quite the same soulful, weeping tone.
Newer songs like "Glitter Ain't Gold (Jumpin' For Nothin')" are welcome additions to the Clark canon and point to a bright future as a songwriter.
The record is nearly flawless as a representation of Clark's talent and vision but there are a few issues with the execution and presentation of the music, beginning with the production. There are too many slick, digitized, overly loud moments and not enough space- none of which is surprising considering the trends in modern music and technology and the two men who largely oversaw the sessions are Rob Cavallo and Mike Elizondo. Both have worked on fine albums but tend towards the more commercial sound (which is painful to listen to, making it bewildering and inexplicable that it's the sound of what sells but that's a different conversation altogether).
The missteps can't be blamed on everyone else; Clark is audacious enough to try as much as he can get away with musically, but that hurts the album's cohesion. It also finds him working with ideas he's merely good at and they pale next to his many strengths found elsewhere on the record.
These issues make me wonder if the results are what he had in mind or are his ideas in a mildly compromised state. The talent is evident but the presentation and sound don't always fully serve it or the songs.
A little more freedom, a little more focus, and Clark may yet deliver a masterpiece. In the meantime, what a hell of a way to start. I can't wait to catch him out on the road and hear these songs in their finest form.