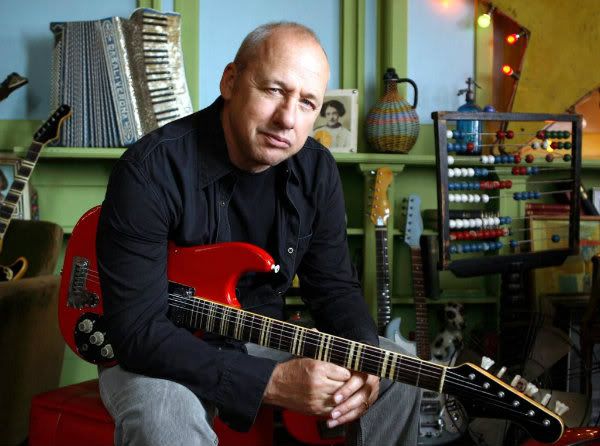 Every time veteran guitar-player and former Dire Straits frontman Mark Knopfler releases an album, there are those who keep hoping stubbornly and naively, for a Dire-Straits reunion record or at least for a sound resembling that of Brothers in Arms. I think of those people in the same way I think of those who believe that Elvis is still alive or that "disco" will someday make a comeback. Alas, they are bound to be disappointed. Meanwhile, Mark Knopfler continues making the music he cares most about which is the music he's been making for the last eighteen years. His latest album, the 20-track double-record Privateering just goes to prove that there is plenty of fuel left in the tank. The sound remains the same Mark Knopfler fans have gotten accustomed to ever since the start of his fruitful solo career and, as a follow-up to the critically acclaimed Get Lucky (released in 2009) Privateering does not disappoint. The direction is mostly the same and fans are going to find his instantly-recognizable sound in songs like "Redbud Tree", "Miss You Blues", "Seattle", "Radio City Serenade" or "Bluebird".
Violins, harps, whistles and flutes provide the familiar celtic folk-rock aura present on almost every solo-record of Mark's since his 1996 debut Golden Heart. What's different, this time around, is that many of the songs that aren't in his, let's call it "traditional style" , are very blues-oriented a direction he started heading towards with "You Can't Beat The House" off his prior album Get Lucky (2009). A great number of songs (i.E "Don't forget your hat", "Hot or What", "Got to have Something", "I used to Could" and others) have the feel of blues, which is something of a more recent aspect of his music. Alongside his usual instruments he heavily employs the bluesman's second-best friend, the harmonica. While these songs are fairly pleasant interludes from his "standard" tracks, some of which are very melancholy and at times downright sad, I am still not a big fan of his blues-efforts as I feel there are others who do this better.
As I have mentioned above, many of the tracks are of an unusually somber nature as the stories he tells, populated by his usual everyman working-class characters seem to be accented with a socio-political awareness of present times. In "Yon Two Crows" he sings:
The dog lifts his gaze to plead
Believes the wizard has a magic stick
Leans his weight into my tweed
I give an unholy hand to lick

I take a swig of sheep dip
From my flask
And once again I ask
What made you think
There'd be a living in sheep?
Eat, work, eat, work and sleep
In "Bluebird" the song's character advises:
Got crows in my pasture
Rats in my barn
Crows in my pasture, babe
Rats in my barn
If I was you, little bluebird
I'd up and find another farm
The stories about hard times for the working man continue in "Corned Beef City":
"Early in the morning
Cause, I'm going to meet a man
Who wants a truck un-loading
for cash in hand
who don't ask questions
and there's nothing in the bank
Got to feed the kids
and put the diesel in the tank
and in "Kingdom of Gold" we are told:
The high priest of money looks down on the river
The dawn coming up on his kingdom of gold
When the rim of the sun sends an arrow of silver
He prays to the gods of the bought and the sold

He turns to his symbols, his ribbons of numbers
They circle and spin on their mystical scroll
He looks for a sign while the city still slumbers
And the ribbons and the river forever unroll

In his kingdom of gold, his kingdom of gold"
On this record Mark seems more preoccupied with the curret socio-political and economic climate and perhaps more inclined to join the wave of pessimism as most of his songs seem to have an air of melancholy and, at times, profound sadness. The beautiful and heartbreaking "Haul Away" and the haunting and breathtaking "The Dream of the drowned Submariner" both speak of loss at sea and while "Go, Love"(for me one of the highlights of the record) and "Miss You Blues" lament over lost love.
Even in the tracks with a more uplifting bet (see "Corned Beef City" or "Got to have Something") the atmosphere is bleak as though saddled with a quiet acceptance of a situation that is at best difficult and at worst hopeless.
There are though small glimpses of Dire Straits ballads in songs like "Go, Love", "Seattle" and "Blood and Water" and in fact, the interesting trait about the album is that on it Mark seems to have sampled parts from the sound of his entire musical career, from the celtic folk-rock of Golden Heart, to the catchy Americana-influenced pop-rock of Shangri-La and the country-blues feel of parts of All The Roadrunning.
The title track is clever five-minute song about naval warfare that presents some of the catchiest guitar-playing from Mark and has the feeling of an instant-classic in the type of What It Is and Why Aye Man from the instruments down to the lyrics:
Britannia needs her Privateers
each time she goes to war
death to all her enemies
No prizes matter more
Come with me to Barbary
We'll ply there up and down
Not quite exactly
in the service of the Crown

To lay with pretty women
to drink Madeira wine
to hear the roller's thunder
on a shore that isn't mine
Privateering, we will go
Privateering, Yoh! oh! ho!
Privateering, we will go
Yeah! oh! oh! ho!
In typical Mark Knopfler fashion the foundation the record is built on is a wise use of instruments. Though one of the most celebrated guitarists of all time Mark never lets his instrument dominate a song if it's not in the best interest of the story he is trying to tell. He always uses the guitar simply as a tool meant to further the overall impact of the song and not to draw attention to itself (as much as I love Gary Moore – may he rest in peace – sometimes the ten minute guitar-solos that followed the actual songs could get tiring). Thus Mark's usual gang of Guy Fletcher, Glenn Worf and Richard Bennett alongside a vast array of talented musician contribute their talent to make this a very complex and well-balanced album.
Privateering again goes to prove that while Mark's biggest hits came in his Dire Straits-past his best music and most interesting stories belong to the present.