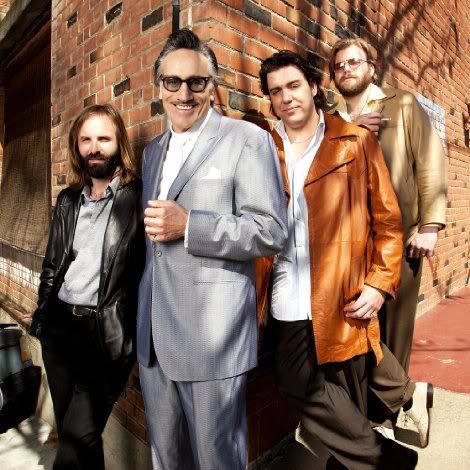 Let's dispense with the obvious right from the start as we prepare to discuss One Wrong Turn, the latest album from Rick Estrin And The Nightcats: Rick Estrin is an utter badass with a harmonica.
There are more imitators when it comes to blues guitar but there are scores of wannabes who listened to Big Walter, Little Walter, the Sonny Boys, James Cotton, and other pioneers of blues harp and while they may cop a few licks, they really don't know what to do with their well-intentioned passion. Rick Estrin is the real deal. He's got great tone, virtuoso technique, and a great sense of style.
It's that sense of style that sets The Nightcats apart from a host of other modern blues acts. It's a tough act to pull off, presenting a classic style in a modern way without becoming a parody or straying so far so as to become something unrecognizable and Estrin and his bandmates do it well. One Wrong Turn has the right sounds in the right places, making for a strong record but not one without a few misses. Style and sound can take a band a long way but sooner or later you get down to songs and that's where the band occasionally falters. Estrin plays the role of hipster and wears it well but his vocal chops are limited as is the vocabulary of the songs themselves.
There are moments where everything crackles, particularly the instrumental tracks "Zonin'" and "The Legend Of Taco Cobbler," but that latter title gives an informative glimpse into the mind that conceived some of the lyrics elsewhere on the record. Not every song requires listeners to take the words with a pinch of salt but some do and Estrin's vocal limitations don't help that cause. When everything hits, though, the Nightcats are one of tightest blues bands on the planet with great interplay and soloing both sharp and compact. "Kid" Anderson's guitar and Lorenzo Farrell's organ work are great foundations for Estrin's fantastic harp work and can dazzle in the foreground, as well.
One Wrong Turn is serious about its style and sound and offers great grooves and good times and that's enough make it a solid recommendation for most blues listeners.