I wonder if Brandon Flowers walks around at parties wearing one of those 'My Name Is' stickers on his shirt, with 'My Name is Brandon Flowers, and I am from Nevada' written on it. Outside of Bruce Springsteen's ever-present New Jersey references, I can't think of another artist that writes about his home state as much as The Killers' frontman.
Evidently, Nevada is 'The Battle Born State.' We must have skipped that in fifth grade Social Studies, because I had never heard of such a thing until the lead-up to The Killers' fourth studio album, Battle Born. Like many major new releases, Battle Born is available in multiple formats. I bought the Deluxe Edition available at Best Buy, which includes two non-album tracks and a remix.
I have loved the title since the first time I saw it. BATTLE BORN. It is fun to say. It sounds hard, and it could not be more fitting. The album's artwork incorporates a lightning bolt into the title, with The Killers' traditional logo present on an album cover once again, this time in red, against a threatening, dark sky. The artwork shows a black horse charging head-on toward a black car, as though a collision is inescapable, on a lonely desert highway.
This sets the tone – as all good album covers do – for the tone of the album, which is both a departure for The Killers and exactly what we have come to expect from them. Battle Born seems to fit better with The Killers' epic, rock-based sophomore effort, Sam's Town, than their other two more pop and synth-inspired releases.
While there are plenty of catchy hooks, Battle Born features an edgier sound befitting the bleak artwork, while offering more slower-paced ballads than what one might expect. The lyrics often speak to perseverance during hard times. And of course, we have arena rock bombast, but we'll get to that later.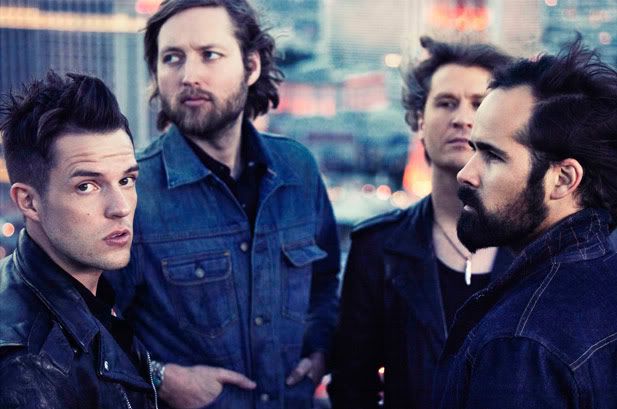 The album gets off to a rocking start with the ballsy, chorus-driven "Flesh and Bone," which features Flowers asking "What are we made of?" to be answered by a doomsday chorus of overdubbed voices chanting "Flesh and bone" like a responsorial in a church service. That theme of toughness and not backing down is as constant throughout the album as the usual Flowers imagery of deserts and mountains.
The album's lead single, 'Runaways,' rocks out in the tradition of something from the Springsteen-inspired Sam's Town, with loud guitars that sound like they could have been on a Queen album.
The Killers are a band that wears their influences on their sleeves, and one can't help hearing the echoes of the band's heroes throughout Battle Born. I dare you to listen to "Heart Of A Girl" without singing the lyrics to Lou Reed's "Sweet Jane." That one is all in family, since Reed worked with The Killers on the single "Tranquilize" in 2009, and they use the inspiration wisely. The band takes Reed's brooding riff -- first used as the bassline and later as a guitar riff -- and wraps it around a gospel-tinged song about a phone call home from the road, yet another frequent Flowers' motif. "There is no end" Flowers repeats again and again.
The up-tempo, country-tinged "From Here On Out" is oddly reminiscent of Asia's "Heat of the Moment," if Ronnie Wood had stopped by the studio to play a little lap-steel.
So, this is a record by The Killers, so there has to be a soaring anthem that makes you pound on the steering wheel while driving too fast and singing along through gritted teeth, right? Well, I was getting worried, until I got to the last song on the album proper, 'Battle Born.' In the tradition of big songs by The Killers, "Battle Born" sits nicely beside "All These Things That I've Done" and "Read My Mind." These are songs that were MADE to close concerts in arenas and football stadium. "Battle Born" is the kind of song that makes your guts churn. If you like The Who, Springsteen and U2, you live for this stuff; if you don't, you are probably dead inside, so just forget it.
It's classic rock without the schmaltz. OK, maybe there is a little schmaltz, but it is heart-felt, well-done schmaltz. From The Edge-inspired intro to the Pete Townsend riff, the song builds to a crescendo as Flowers supplies the strongest lyrics of his career, while nodding to his heroes yet again. "Up against the wall! (hello Roger Waters) There's something dying on street (what's up Bruce?) when they knock you down, you've got to get back on your feet."
But it is at the song's climax that Flowers' lyrics and vocals truly shine, as he belts out the powerful lines:
Did they break your heart?
And did they cause your soul to mourn?
Remember what I said
Boy, you was BATTLE BORN

C'mon show your face
C'mon give us one more spark
Sing a song of fire
Lest we fall into the dark
If that doesn't light your fire, your wood's wet folks. I will be surprised if Battle Born doesn't go down for many as The Killers' masterpiece. It may even grow on me to the point that it surpasses Sam's Town as their gold standard. Time will tell on that point, but as of today, Battle Born stands both as a testament to and antidote for our troubled times, and reminds me exactly why I like this kind of music in the first place.