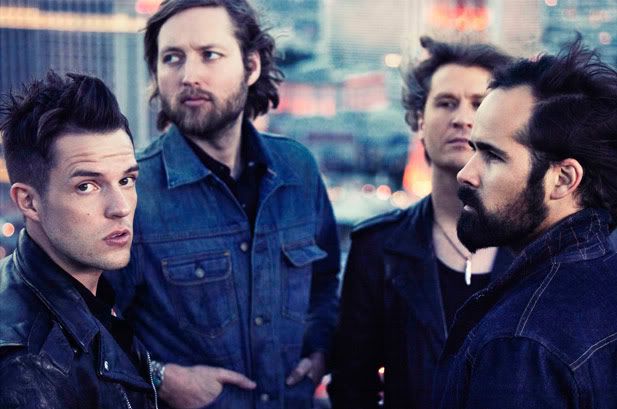 My name is 11, and I like The Killers. Or, if you like, bless me Father, for I like The Killers.
Now, before you judge me too harshly for enjoying the stylings of one of the most simultaneously loved and hated rock bands to come along in the last decade, consider the following and realize that I had no choice in the matter. If you look at my iPod, you might notice that I enjoy:
'80s New Wave
Synth Pop
Soaring Anthems
Angst
Melancholy
See? I'm not responsible for being a fan of The Killers. The first time I saw the video (remember those?) for "Somebody Told Me" back in 2005, I was hooked. Hot Fuss was an uneven initial effort aside from the massively successful singles, but I was blown away by the follow-up, Sam's Town, which was famously a little more Springsteen and a little less Duran Duran than its predecessor. Sam's Town showcased shocking depth and gut-wrenching emotional resonance as demonstrated in an unspoken album-long theme of homesickness and nostalgia. Sam's Town isn't a concept album except that it is, but that's another day on Donahue. I mention it only to say that The Killers are capable of great things, which led to my disappointment with the maddeningly inconsistent Day & Age, that, despite a few strong tracks, doesn't measure up to what came before.
That having been said, I was excited – and apprehensive at the same time – last week when I saw that The Killers' new record, Battle Born is set for release September 17 and the lead single, "Runaways," was available for download.
Good news everybody: "Runaways" rocks my fucking socks, and if it is any indication, The Killers are about to be back in a big way. In fact, this is among the best new songs I have heard in the last few years. It is everything The Killers do well. There's a strong chorus, a great hook, nice riffs, and the oh-so-essential '80s keyboards thrown in for good measure.
Lyrically, the song is a return the territory so richly cultivated on Sam's Town, with a little more romance coming from now-married frontman Brandon Flowers this time out. Flowers reflects the angst of becoming a husband and soon after a father, and works hard at convincing his beloved (and himself) that he is up to the task of being a devoted family man despite his misgivings and restlessness.
When Flowers is at his best, his lyrics and vocals build to an emotional crescendo and pull you into the song, forcing you to feel what he is feeling. Sometimes he is more successful (the stunning 'Read My Mind') than others (the clunker 'Dustland Fairytale'). "Runaways" gets you right where you live just when it needs to, as Flowers manages to be quiet and unassuming in his lyrics -- "Ain't we all just runaways?" he innocently muses -- only to turn urgent and bombastic "We can't wait 'til tomorrow" moments later. And it all works, because the emotion is palpable, the intensity is there in the riffs and as always, Flowers' vocals by the song's climax are as subtle as a smack in the face.
Oddly, "Runaways" is a song that would have fit on either the pop-heavy Hot Fuss or the more rocking Sam's Town, and the intersection turns out to be a mighty fine place to live. The track is as good as anything The Killers have released to date, and after having spent the last few days literally wearing out "Runaways," Battle Born can't arrive quickly enough.