I first stumbled onto The Spring Standards when someone played their song "Drowning In Sobriety" in the 'It's All Connected' room at Turntable.fm. It was an instant hit with me. I immediately downloaded the song from iTunes (the song being an iTunes bonus track only) and ordered the CDs from their web store.
I fell for them so quickly because I'm a walking fanboy waiting to happen and because I'm a sucker for great harmonies. It can be wonderful hearing great and interesting vocalists double-track and/or overdub layers of their own voice but there's something even more magical when two or more people complement each other with their own distinct voices.
Piano chords allow us to hear notes in pleasing intervals and my ear tries to separate those sounds and put them back together but it's even better when you're talking about human voices replacing those keys. A piano has 88 keys that, when played, strike strings built of the same material designed to work together to create a unified sound. The science of anatomy tells us human vocal chords are made of the same material, more or less, and yet no two voices are alike and there is nothing quite as special as hearing voices of different timbres come together.
James Cleare, James Smith, and Heather Robb take turns singing lead and harmonize together throughout and between them play an orchestra and a half worth of instruments: acoustic and bass guitars, harmonica, trumpet, drums, melodica, keyboard, glockenspiel and more.
Three voices and a bevy of instruments create a eutopia of all the things that were good about the '70s singer/songwriters who had an ear for pop before it started to completely suck. Think of them as an East Coast Laurel Canyon troupe for the 21st century.
That brings us to their latest double EP yellow//gold, or what we might have called a Side A and Side B of a vinyl album in a galaxy far, far away. 'yellow' and 'gold' feel complete as separate suites yet also complement each other when presented side-by-side. Let's see how far I can stretch my memory and knowledge of the '70s when I say it sounds an awful lot like a '70s prog concept album, only better because instead of being a bloated double LP, it's a double EP.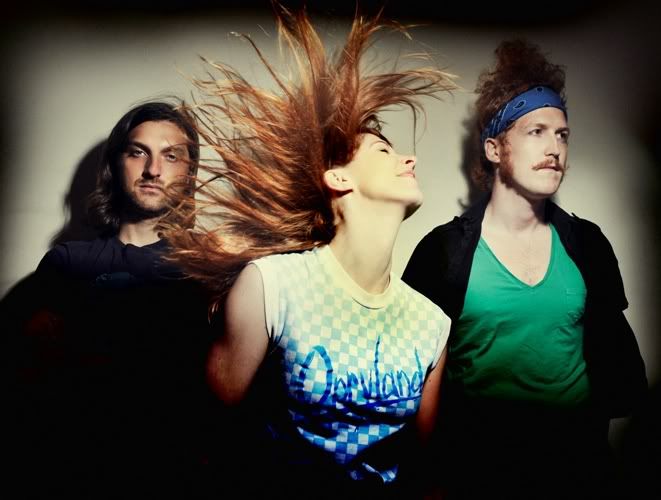 The 'yellow' side of the record has a sweet, fragile, organic texture and many of these songs are imbued with a youthful hopefulness or tender nostalgia. Vocals are at the heart of the band's sound but the songs on this portion of the album coax forth a heartfelt yearning from these three wonderful singers. These tracks flow gently from one to the next with "Heavy Home" and "Chicago" standing out most among them.
The 'gold' side of the record is a more rock-oriented group of songs, comparatively speaking (Black Sabbath they are not). Prepare for another '70s reference here but in a sense the 'yellow' side has a lot in common with the great singer/songwriters of that decade (James Taylor, Jackson Browne, Joni Mitchell, Linda Ronstadt) and the 'gold' side has the flavor of some of the roots-oriented rock and country rock of that same decade).
The gem on this side is "Watch The Moon Disappear," which might be the best song Fleetwood Mac never wrote. The Mac had their share of hits in the '70s and sold a few records but Stevie Nicks, Lindsey Buckingham, and Christine McVie are going to kick themselves when they hear this one. The piano sound and solo, the rhythm track, the lead and harmony vocals- it's all here and would have been a surefire hit. The Spring Standards evoke that classic sound without delivering a limp imitation. "Watch The Moon Disappear" demands repeated listens.
"Nightmare" has a strong percussive skeleton on which to hang more sensational harmonies. There are loud blasts of guitar and noise in the background and the percussion and bass click, creating a nice pocket for the groove but it's still the voices that steal the show.
The popularity of shows like American Idol, X Factor, and The Voice tells me there are millions of people with a lot of time on their hands. It tells me these same millions are hungry to hear great singing. If you hear the voices before the words or music or love trying to pick out the harmonies of your favorite songs while in the car, yellow//goldshould be the soundtrack for your morning commute.