My favorite live albums are complete, single shows with no overdubs and minimal post-production, presenting and preserving the magic of a band, its music, and the audience on one night. It's the best way to structure a live album but it's not the only right way.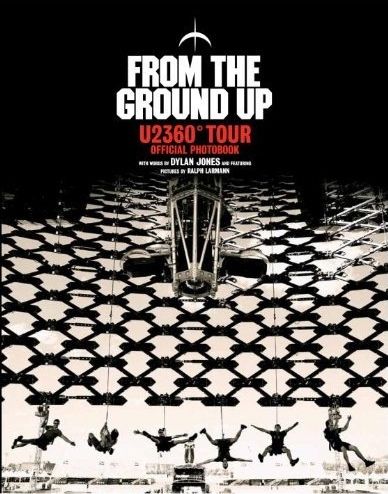 Another way to construct a live album/ is to compile songs from throughout the tour and give fans a chance to hear high quality versions of most or all the songs they played over the course of that tour. That's what U2 has done, chronicling their epic 360° tour. It took them two tries but they finally got it right- very right.
The U2 fan club has presented two separate packages from the 360° tour, the first U22, a 22-song set voted on by fans spread over 2 CDs. From The Ground Up was a 15-track set compiled by The Edge, offering mainly tracks that didn't make the cut the prior year. Add six bonus downloads to those 37 songs and you have a comprehensive overview of the years the band spent on their epic stadium world tour.
The two packages, separately and together, include a heavy dose of classics from the bands 30-year career as well as some genuine rarities presented for the first time or the first time in many, many years.
The 360° tour was a multimedia extravaganza with more eye candy than you could possibly process even if, like me, you caught a pair of shows over its course. In the midst of the visual mayhem, U2 was trying to promote No Line On The Horizon and several songs from that album are included in these audio-only offerings. In addition to the new songs, oldies and obscurities like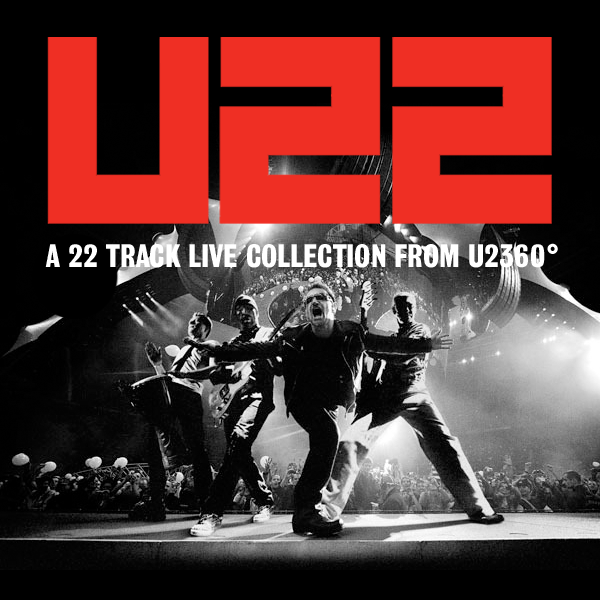 "Scarlet," "The Unforgettable Fire," "Zooropa," "One Tree Hill," "Hold Me, Thrill Me, Kiss Me, Kill Me," and "Your Blue Room" are included with staples like "Sunday Bloody Sunday," "New Year's Day," "With Or Without You," and "Where The Streets Have No Name."
The 360° tour lasted longer than intended due to emergency back surgery for frontman Bono, which meant they were on the road to celebrate the 20th anniversary of their landmark Achtung Baby record, and several songs from that record beyond the expected "One" and inescapable "Until The End Of The World" are included as well. It was a special tour worthy of remembering and served as a powerful reminder of what U2 can be as a live band. They, by their own admission, aren't virtuosos and yet magic happens and spirits soar when these four come together to make music together in the studio or on stage.
Each set is well sequenced, giving the flavor of almost a show. They're satisfying listens on their own, as presented. The magic of iPods and the ease with which one can find setlists from the tour make it possible for fans to recreate sets from shows they attended (I've got playlists for Atlanta and Nashville) or design their own dream show (which I'll likely tool around with sometime soon in a future post).
As for the highlights, there are many. If I was to pick just one it would "Your Blue Room," a longtime favorite of mine from the side project the band did with Brian Eno on the fictitious soundtrack album Passengers. It's a fantastic song and I can't believe they finally played it live, especially in stadiums. It didn't stay in the set long because not enough people know it (and I'm very bitter they pulled it about two shows before they got to Atlanta). I have a live version of it now and it's amazing. Sinead O'Connor recorded a vocal portion to hit notes Bono no longer can and it is a complete success. They need to remember how good this sounded and forget not all fans know it when they hit the road next time.
Other highlights include a smoldering version of "Hold Me, Thrill Me, Kiss Me, Kill Me" and the brilliant "Zooropa." Zooropa is a
great album as it stands but I can't help thinking how much better the album would have been if the former had been included on it rather being fobbed off to a soundtrack to a shit Batman movie.
Bono doesn't have the same range he did when the band recorded "The Unforgettable Fire" but it holds up well all these years later and rearranging the vocal allowed him to sing it well even if he can't replicate the original. Edge's chiming guitar rings clear and pure and Adam Clayton's muscular bass gives a deep low end to the soaring anthem. Also of particular note for me are "Sunday Bloody Sunday" and "Scarlet," both of which were taken from the Nashville show I attended (if only they'd included the version of "I Still Haven't Found What I'm Looking For" with the snippet of "The Wanderer," dedicated to Johnny Cash!).
U2 hasn't released an official live album since Under A Blood Red Sky and that was little more than an EP dating back to their War tour in the mid '80s when they were still getting started! So much timeless music followed, yet live albums have been eschewed in favor of video documents of subsequent epic, acclaimed, successful (and sometimes derided) jaunts. The visuals from 360° were grandiose but these twin releases prove the band and music can stand on their own, making it a shame they didn't take all these songs and release a multi-disc box with the fantastic packaging that accompanied the twin releases and offer it to the wider world.
U22 Tracklisting
Even Better Than The Real Thing
The Fly
Mysterious Ways
Magnificent
Until The End Of The World
I Still Haven't Found What I'm Looking For
Stay (Far Away, So Close)
One Tree Hill
Beautiful Day
Elevation
Bad
All I Want Is You/Love Rescue Me
The Unforgettable Fire
Zooropa
City Of Blinding Lights
MLK/Walk On
One
Where The Streets Have No Name
Ultra Violet (Light My Way)
With Or Without You
Moment Of Surrender
Out Of Control
From The Ground Up Tracklisting
Breathe
I Will Follow
Get On Your Boots
New Year's Day
Electrical Storm
Stuck In A Moment You Can't Get Out Of
Your Blue Room
Vertigo
I'll Go Crazy If I Don't Go Crazy Tonight
Sunday Bloody Sunday
Scarlet
In A Little While
Miss Sarajevo
Hold Me, Thrill Me, Kiss Me, Kill Me
40
Bonus Downloads
Unknown Caller
Spanish Eyes
Pride (In The Name Of Love)
Desire
Angel Of Harlem
No Line On The Horizon