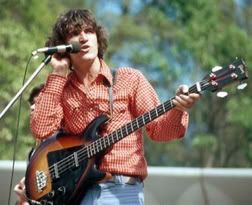 The Band's fourth studio LP, Cahoots, was released on September 15, 1971. Just over a year later, Steely Dan's Can't Buy A Thrill hit the radio waves and record charts. Steely Dan came to the forefront, as The Band seemed to lose their way on Cahoots, an album that is mediocre at best. Steely Dan carried on as "the thinking fan's band." "Can't Buy A Thrill" was sarcasm and anger with a bit of sentimentalism mixed in for good measure. Cahoots contained two great singles, "Don't Do It" and "Life Is A Carnival" but also included tracks that do not warrant repeated listens. It reminds me of that great, mid-sixties Keith Richards comment about LPs:
"Ten pieces of shit and a hit single."
At least Cahoots had two singles.
Fast-forward nearly twenty years and I am in cahoots, of sorts, with Rick Danko in organizing unique shows featuring eclectic artists such as John Stewart, Eric Anderson, John Sebastian, Garth Hudson, Lonnie Mack, and Kinky Friedman. Every week presented a great lineup out to hear what Rick had concocted to a rapt audience that had no problem forking out the, then steep, twenty bucks once a week on a Friday or Saturday night. It almost seemed, at times, that there were more celebrities, not just in music, but photography, arts and film, than onstage. Rick had a steady paycheck and I had not fallen out of Sally Grossman's favor, yet.
The previous "New Year's Eve at the Bearsville Theater" featured recent Woodstock resident Donald Fagan of Steely Dan previewing his "Rock and Soul Revue. " It was such a success; he took it on the road for most of the year. Now snug at his Byrdcliff home that had once belonged to Bob Dylan, Donald wanted a follow-up New Years Eve show for 1991-92. Sally put the beguiling Mr. Fagan in touch with me and we talked about the possibilities for a show just under a month away. It was still a little hard to wrap my mind around the fact that I am concocting once in a lifetime performances in collaboration with musicians and artists I had admired for over two decades. Donald asked me about working with Rick and, with my knowledge of Fagan's perfectionist nature, was not really keen on the idea. Donald's wife, Libby Titus, had been married to Levon Helm and loved Rick so Donald, aware that he comes with some baggage, really wanted me to put together a band with him on piano, Rick on bass, Band guitarist Jimmy Weider, my friend Gary Burke on drums and multi-instrumentalist/vocalist Mindy Jostyn, all of whom I worked alongside for the next decade and, in the case of Rick and Mindy, until their passing.
The routine of the night prior the performance was set for rehearsal and that is where the trouble with Sally began. When I arrived as theater manager in late Summer, I had an excellent set of stage monitors that I sold to the theater but, with Donald Fagan, the sound onstage and in the house had to be perfect. I was not convinced that my stage system was up to Steely Dan snuff.
I found him to be a surprisingly nice and amiable man, much against type. He evening invited me to go early morning jogging on O'Hayo Mountain Road. I politely passed with a bum knee as an excuse and quickly volunteered my housemate and lighting director, Alex Kahn. As far as I can remember, they hit off splendidly.
Meanwhile… back at the December 30th, 1991 rehearsal…
We recently lost our world class house engineer due to yet another falling out with Sally and had to use a temp who, while being an outstanding person and Mr. Fix-it, had little knowledge and experience in the way of sound mixing, especially when having to mix stage and house sound at the same time. I practically begged Sally to rent in a monitor system and mixer that would make Donald happy. She saw no sense in it, the show was oversold and, besides, he was a personal friend so he should take what she provided. One of many assumptions she made that was beyond me … or the rest of the studio and theater staff … to comprehend.
Everyone assembled at the theater promptly at 6:00 PM as requested by Sir Donald, I am not being sarcastic, I LOVE the guy), and I wanted everything to be perfect. I stressed with Rick to please be on time.
He was. And he was in fine playing and joking form.
In his jovial manner and figuring it was another one of his shows, introduced himself to all and handed out a set of songs he wanted to perform. I politely told him that Donald also had a list and we could combine the two for a great evening of Band, Steely Dan and choice covers. Donald, being the gentleman, offered to cut his own songs in favor of Rick's so the closest we got to the Dan was a phenomenal "Peg" during the rehearsal and a killer version of "I Got the News."
To my surprise and enjoyment, Donald had asked Kate McGarrigle to be one of his guests and insisted on performing a trio with him on piano, Kate on vocals and Mindy Jostyn on viola for a tearjerking, "Heart Like A Wheel."
Once again, for the rehearsal, I placed a well hidden tape recorder in the acoustically perfect theater and captured the 4 ½ hours of run-through bliss for posterity. I can honestly say, I have never let that tape circulate but, after twenty years, it needs to be heard. To release it legitimately would be a legal tangle. I enjoy listening to the banter between Donald and Rick and I can still see Donald's perplexed looked when Rick would challenge him with a song idea or arrangement.
Maybe it was my believing the press accounts of Donald being a constant contrarian, I was in fear of a diva outburst, it never happened. In addition to Sally's refusal to rent a monitor system, she denied my request of a baby grand piano. The Baldwin upright would be good enough. At least she allowed me to hire a tuner for the rehearsal and performance but it would be docked from my paycheck.