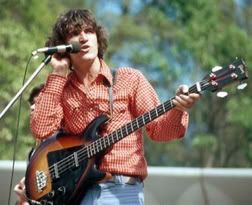 The Band's Music From Big Pink was such an important record in my young life, especially as an aspiring musician. To my twelve-year-old ears, this was music I could latch onto without betraying the British invasion, which had been the core of my listening material for several years. I was lucky to have had a cousin from Chicago who was a guitarist in a semi-popular regional band and had every record I could imagine. He spent his summers down south so, for three months each year, I had access to great music, guitar lessons and his vast knowledge of the details about every band and band member, producer and labels that had Music 101 every summer. I would know names of musicians and producers years before I would hear the music
The musicians in The Band seemed to be from the south because of the storytelling feel and biblical, gothic nature of the songs, especially on the eponymous second LP. Song like "The Weight," "The Night They Drove Old Dixie Down," and "Up On Cripple Creek" sounded authentically southern because of the three voices of Rick Danko, Richard Manual and Levon Helm, the only actual southern rebel in The Band.
Although the three voices seemed to blend as one, by the time of Stage Fright, the third LP, I was able to distinguish between Danko, Manuel and Helm. Levon Helm's voice was that of a character actor in a play or movie. He sounded authentic but there was always something that felt a little bit put on for show. Richard Manuel displayed such pain, longing and hopelessness that the listener could tell that the despair was real. Rick Danko was the perfect foil for Helm and Manual. He never sounded sad even singing a sad song. There was always the positive feeling that things were going to get better when Rick sang with The Band or solo.
Those three voices and their respective instruments interspersed with Robbie Robertson' s guitar and Garth Hudson's organ and sax made for a combination that, in it's own way locked into something akin to The Beatles during Revolver/Rubber Soul or the Stone's era of Between the Buttons/Beggar's Banquet. For a time I was listening to more American music than the Brits. I would look at the Elliot Landy photos placing The Band in a lost time and feel like I belonged there with those bare trees and mountains. That feeling carried me through high school, college and beyond.
It culminated on the tour for Northern Lights; Southern Cross that I had the chance to see The Band on what would be a short month before the final shows for the filming of the Last Waltz. No one, including The Band, knew this was it for good – or the end of the Robbie era. Watching and re-watching The Last Waltz, my favorite part of the movie is when Rick is alone in the control room of The Band's Shangri La Studios with Martin Scorsese and they are talking about the future of The Band. Rick brings the faders up in the middle of a rough mix of "Sip the Wine" from his upcoming solo record. The music and voice especially in that context, makes you want to cry. Little did I know that three decades later my life would revolve around the members of The Band minus Robbie Robertson.
It was not long after I moved to the Albany area of New York that I took my first solo trip to Woodstock/Bearsville. It was a snowy day and perfect for a sojourn. I stopped at a phone booth and asked the operator if she had numbers for Rick Danko or Levon Helm. She must have been a local because she said, "I bet it's not there but I'll look for you." Nada, but it was just as well, I have no idea what I would have said if they had picked up the phone. Soon after that short trip, I noticed a small ad in the local music rag that Danko and Helm were playing an acoustic duo show at a private college nearby. I made sure to get there early enough to score a front row seat at the general admission performance. The room barely held one hundred but the reaction was that of an arena. Any configuration of the members of The Band drew an enthusiastic crowd. After the encores, Levon raced to his car and headed back to his Catskills home. Rick, however, stuck around to talk to fans and he even signed my 1968 Telecaster Thin-line guitar and seemed to enjoy talking to me about vintage instruments. I was surprised at my not being nervous but Rick was always the type of person who made anyone around him feel comfortable.
Skipping ahead five years, I moved to Woodstock to manage the Bearsville Theater owned by Dylan/Band/Joplin manager Albert Grossman's widow, Sally. I was hired to book acts for the 250 seat room with national artists that would play for a reduced rate for the pleasure of playing in such a musical place with the theater, surrounding restaurants, Todd Rundgren's video studio and Bearsville Studios. It was almost surreal in that, on my first trip to the grocery store, I was behind Garth Hudson and in front of Graham Parker in the checkout line of the Price Chopper. According to Woodstock/Dylan lore, the very grocery store where Rick Danko and Bob Dylan started co-writing the song, "This Wheel's On Fire." It even got weirder for me when I learned, on my first day in the Bearsville offices, that Jane Manuel, Richard's widow, would be my assistant in the day-to-day running of the theater. Rick Danko's stepson was a busboy for the bar inside the barn turned theater.
A week or two into the job, I received one of Sally's multiple per day phone calls. She informed me that Rick would be calling me at home that evening to talk about booking some dates for him in the near future. I came to learn that every time Rick was tight on money, he would play the theater and that happened about once a month. I certainly did not mind and, together, Rick and I put some excellent special guests on the bill who played for free to share the stage with Rick and perform for an audience that had more music history in the audience than in the local record store.
I can't recall who had played the theater on that particular night but after four or five shows a week, I was tired. While getting ready to lock the theater, the private line rang and it was Sally telling me to wait around, Rick wanted to talk to me. It was a bit puzzling that Sally always made the calls for Rick after we knew each other well enough to have each other's home numbers but, despite being exhausted, a chance to sip some wine and laugh and talk with Rick Danko was something not to be passed up.
It had to be 1:00 AM when I sat alone in the theater when I hear a knock on the lobby doors. There are very few lights on but I knew it was Rick and there he stood in the cold holding a rather large boom box. I welcomed him in and in his always-cheerful voice he said,
"Thanks Dan, thanks for sticking around, I won't keep you long."
We were there until sunup.
He originally wanted to talk about putting together a songwriter's circle with himself as moderator. I was quite sure Rick wanted me to pick the artists and, by this time, trusted me enough to know they would be a good match for him. He had sat the boom box on the bar and the only lights were on the exit signs (Sally was a frugal millionairess). He said that his real purpose for coming down was to play me a song he had just written with his wife Elizabeth and his friend, Eric Anderson, called, "Driftin' Away." He hit the play button and a simple but beautiful acoustic guitar began to play a quiet melody. Then Rick's voice came from the small speakers:
"You touched a dream, You broke a heart, Now wasn't that a shame, Heaven must know I gave all I could, Can't give you more, Please don't stand outside Of my door"
I was taken back to 1968 to when I heard Big Pink for the first time.
And it get's better.
The chorus comes in:
"I'm driftin' away Down a long dark highway, I looked back once I can't look anymore, And if you find me On some lonesome shore, You wouldn't have To look for more"
Rick began singing a high harmony with himself working on a different part each time the chorus came around. Granted, Rick and I had shared a bottle or two of Sally's excellent merlot over the hours, but I felt like I was on a mellow mushroom trip. I could see how the song affected Rick, how proud he was and he saw my reaction. When the song was over he just quietly sighed and I was speechless. I am not sure for how long but we just sat there in the early morning Catskill quiet, not wanting to say a word to end the buzz. Looking back to important events in my life, this is in the top five. I will never forget the sound of Rick singing harmony to his own voice in an empty bar that sounded like Carnegie Hall.
I finally spoke and told him he had to record that song and get it on a solo record as soon as possible. I volunteered to help him land a deal even though Sally would have been furious. It turned out that I need not alarm Sally about my outside Bearsville interests when Rick said he would not sign a deal for less than $100,000. This was the early nineties and major labels were not doling out big advances for "legacy" acts. I would learn that lesson a few more times down the next few years.
There are so many great Danko stories from my year in Woodstock and beyond, it is difficult to cover them in one posting so I will give you the highlights. I will be back soon and share some wonderful, funny, and some tragic, Rick Danko stories.