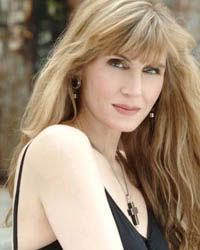 Award-winner Rory Block is releasing the third installment in her "Mentor Series" this month when I Belong To The Band: A Tribute To Rev. Gary Davis is released via Stony Plain Records May 29.
Block's "Mentor Series" is devoted to legends of the Delta Blues she met along her journey and who influenced her. The first in the series was Blues Walkin' Like a Man: A Tribute To Son House (which I seriously need to get) and last year's Shake 'Em On Down: A Tribute to Mississippi Fred McDowell, which I dearly love. Block also did an amazing Robert Johnson tribute disc called Lady & Mr. Johson* which I highly recommend.
The making of the record was emotional for Block because not only was she recording powerful songs, she was transported back to the time she spent with Davis. She met him when she was 14, spent time with him, and learned from him.
"I cried during the recording of this CD," she said. "This was a time when people like Reverend Gary Davis could be visited at home and one could take face-to-face lessons. It was nothing short of a magical time."
Thinking about Block's experience makes me think of the recent losses of Pinetop Perkins, Honeyboy Edwards, Hubert Sumlin, Willie "Big Eyes" Smith, and Etta James and friends and acquaintances who knew and played with them. What an amazing experience that had to be and now they carry with them those memories and the honor of carrying on that legacy.
I'm glad Block has chosen to devote this time in her career to honor the memory of those special moments in her life and the pioneering talents who created the influential music that continues to inspire us today. I can't wait to get my hands on the record and hear Rev. Gary Davis through her ears and work.