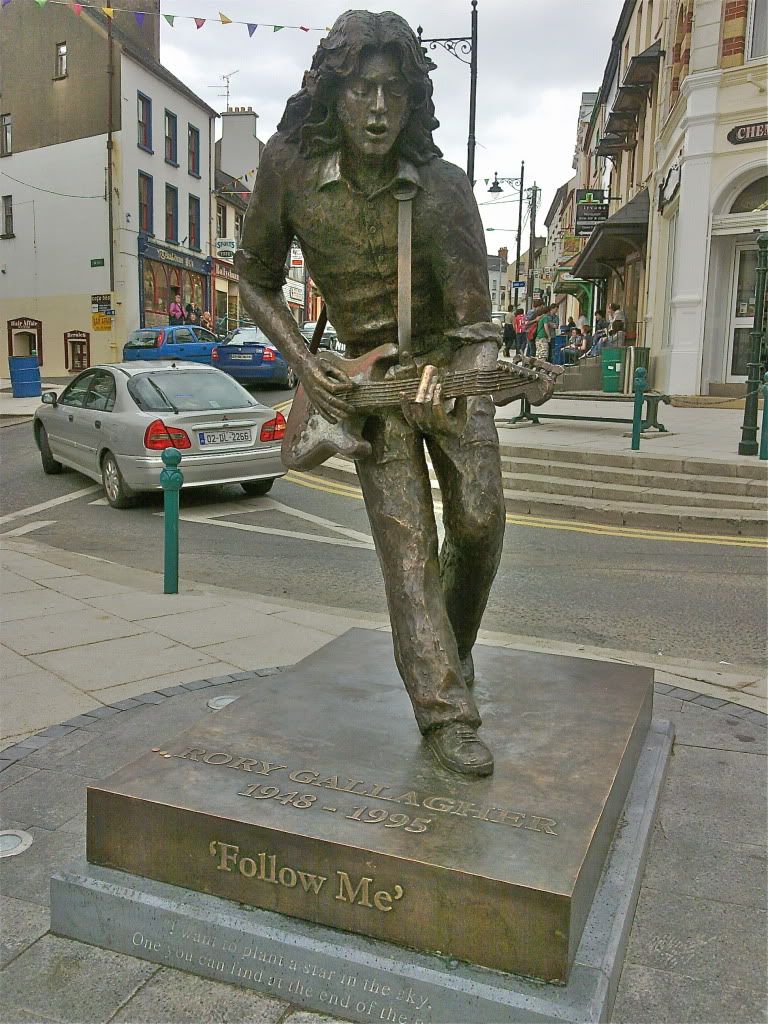 In a Rolling Stone interview, Jimi Hendrix was asked what it was like to be the world's greatest guitar player. "I don't know, go ask Rory Gallagher," was his reply. Hendrix was not particularly known for his compliments to fellow musicians, in fact he once dismissed Brian Wilson's "Heroes And Villains" as "psychedelic barber-shop music." Nevertheless, Jimi recognized a kindred spirit in Rory.
Rory Gallagher (1948-1995) never rose above cult status in the United States, although he was huge in Europe. In Ireland, Rory is practically a saint. It seems like nearly every Irish town in the country has some sort of a tribute to him. While his talent is undeniable, I have to believe there is more to it than that. As documented on his Irish Tour '74, Rory was just about the only major artist who had the balls to tour his homeland in that very violent year. The DVD dramatically illustrates the reasons for this. While Rory is tearing up the boards at a hall in Belfast, the camera pans outside. Just across the street are row upon row of bombed and burned-out buildings, courtesy of the IRA.
Eagle Rock Entertainment have recently undertaken a project to remaster and reissue Rory's catalog, adding bonus tracks and incisive liner notes to each as well. His debut, simply titled Rory Gallagher came out in 1971. Everything the world would come to know and love about his music was present right from the start. Working with Gerry McAvoy (bass), Wilgar Campbell (drums) and (for two tracks) Vincent Crane (keyboards), Rory presented a mix of blues both old and new.
Opening with the classic "Laundromat," the album never lets up. Rory's riffing during "Laudromat," "Hands Up," and "Sinner's Boy" made them early concert favorites. But this is a surprisingly well-rounded record. With ballads such as "For The Last Time," and the acoustic "I'm Not Surprised," Rory shows some of his range. His guitar solos are always outstanding, and he even pulls out his saxophone during the closing "Can't Believe It's You." The disc appends two tracks recorded at the time, but left off the original LP. These are covers of "Gypsy Woman" (Muddy Waters) and "It Takes Time" (Otis Rush).
Rory's second album, Deuce was also released in 1971. Here he stripped the band down to the format he was most comfortable with, the power trio. Retaining McAvoy and Campbell, the intention with Deuce was to get across more of a "live" feel than before. To this end, many of the tracks were recorded as one-takes, giving the entire set a much rawer feeling than the previous one had. Standouts include the R & B inflected "Used To Be," the (mostly) acoustic "I'm Not Awake Yet," and the countryish "Don't Know Where I'm Going." For killer guitar though, there is nothing like the closing "Crest Of A Wave." This cut just smokes, from beginning to end. The bonus tune is a decent enough song called "Persuasion."
These two albums set the stage for Rory's enormous European popularity, but it was his live appearances that sealed it. For most artists, releasing a live album at this point in their career was unusual. With Rory Gallagher however, it made perfect sense. Live In Europe was recorded during February and March of 1972. Its appearance later that year sealed Gallagher's legend as one of the all-time guitar greats.
First and foremost, his depth of passion for authentic blues is on display here in no uncertain terms. Opening with Junior Wells' "Messin' With The Kid," and later playing Blind Boy Fuller's "Pistol Slappin' Blues" Rory pays homage to his heroes. The great "Laundromat" from his first album is a powerhouse, as is "In Your House" from Deuce. The real fun comes during "Going To My Hometown." Rory gets the already frenzied crowd involved and proves himself to be a master front-man. The show closes with "Bullfrog Blues," which offer McAvoy and Campbell the chance to shine with brief solos.
Live In Europe heralded a trio of firsts for Rory. It became his first gold record, his first to chart in the top ten, and it marked the first time he was honored as Melody Maker's "Top Musician Of The Year." I find it astounding that the American market never warmed up to this album. At the time, crap like Humble Pie's Rockin' The Fillmore, and even Grand Funk's Live Album were clogging up the FM airwaves. Live In Europe was light years ahead of both.
Following the success of Live In Europe, Gallagher returned to the studio with stalwart bassist Gerry McAvoy, new drummer Rod de'Ath, and keyboardist Lou Martin. This lineup would last for the next six years. Blueprint was the title of the album they came up with, and was released in 1973. Leading off with the future concert-staple "Walk On Hot Coals," Gallagher was clearly not about to rest on his laurels.
The integration of Martin into the band is best appreciated during the eight-minute "Seventh Son Of A Seventh Son." After playing a searing solo, Rory steps back to allow room for Martin's equally powerful keyboard turn. Once again, Rory showcases his wide range of talents, playing sax during "Hands Off," and some amazing slide guitar on "Race The Breeze." The bonus tracks are titled "Stompin' Ground," and "Treat Her Right." Neither are particularly memorable, and sound like rehearsal takes.
Having released four albums between 1971 - 1973, Rory Gallagher was clearly on a roll, and his Irish Tour '74 was just around the corner. It really is a shame he never caught on Stateside, but in Europe the guitarist was revered. So much so that when Mick Taylor quit The Rolling Stones, Rory was reportedly their first choice as his replacement.
Eagle Rock have done a superlative job with these reissues, and all of them come recommended. Personally, I can't wait for the next batch.