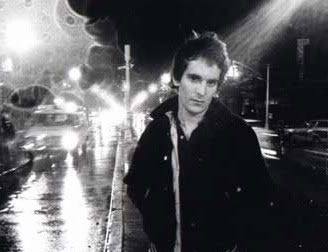 Looking back over my posts of the past few months, I realized that I never finished the weird but true story of my experience with Alex Chilton (here are Part 1 and Part 2 of the story). When I left off, I had returned to north Alabama and began rehearsing a band in hopes of getting Alex to come play some old and new music and, maybe, get back into the groove, so to speak. Alex would have none of that and would not be ready to reemerge for a couple more years. In the meantime, I had the good fortune to meet Marshall Crenshaw on his Southern tour for the LP Field Day in early 1983. We had an excellent conversation and I mentioned my Alex-quest. He was of the opinion that I was possibly better off not getting involved as he had heard some wild stories from his friends Mitch Easter, R.E.M.'s producer, and Chris Stamey and Peter Holsapple of the dB's. Years later Marshall says he regrets sounding negative in our talk about Alex but I can never thank him enough for drastically changing the direction of my life.
Marshall gave me Mitch's phone number and we, along with his then girlfriend and bassist for his band, Let's Active, struck up a long distance friendship that continued on through the recording of REM's Reckoning and Let's Active's first full LP, Cypress. I visited the band during the recording of their next release and even loaned them some synth keyboards I had used with my former band. Mitch regaled me with Big Star/Alex Chilton and the late Chris Bell stories that made my head spin and I had a greater understanding of the man himself.
By the time Mitch's band returned from a short EU tour with Echo and the Bunnymen, Mitch was minus a drummer, Sara Romwebber, and a bassist and long time girlfriend, Faye Hunter. Mitch had recruited two excellent musicians he had met while producing the best of college radio in the 80's, Tim Lee of the Jackson MS band, The Windbreakers and Jay Peck of the Minneapolis-based, The Figures. Faye stayed on a bassist and the group planned a months-long tour of the US for their first headlining gig booked by the legendary Ian Copeland at Frontier Booking Int., (F.B.I.), brother of their label head, Miles Copeland of Int. Records Syndicate (I.R.S). You probably catch the drift that both were siblings of drummer, Stewart Copeland of The Police, also under the FBI/IRS wing of Copeland grandeur.
Mitch invited me to join their tour, (it helped that I owned the keyboards as well as a very nifty monitor system), and I jumped at the chance. Most of the shows sold out and, at least in the northeast, I met many-a musician who had worked or attempted to work with Mr. Chilton during his post-Big Star days of the '70s. There was a rumor that Alex had actually been recording in New Orleans with a jazz bassist and drummer. The record would eventually come out as the EP, Feudalist Tarts. During a break on the road, Jay Peck ran into Mr. Chilton at a Replacements gig. Jay told him he was friends with and working with Mitch and me. Alex barely acknowledged that he knew us and clammed right up.
Alex began touring with his small combo and got rave reviews performing the white-boy Memphis jazz/soul cover tunes and scant originals from his Boxtops and Big Star days. Let's Active seemed to travel inn the same touring circuit as nearly everywhere we played, there was a poster for Alex. I was happy for him getting back to business although I was disappointed that we never crossed paths again until a weird but very Alex-like meeting a few years later.
Skipping ahead, I had moved to upstate New York and began a career working as tour manager and promoter for 10,000 Maniacs, Suzanne Vega, Warren Zevon, and many more. Eventually I came to manage the Maniacs' original but departed songwriter/guitarist John Lombardo and his new violin/viola/vocalist partner, Mary Ramsey. I was able to score a record deal with the hip label of the moment, Rykodisc, and used my nepotism powers to get Rob Buck and Jerry Augustyniak, lead guitarist and drummer of the by then hit-making Maniacs and studio/engineering/co-producing functions from Mr. Easter.
It was on the sessions for the duos second Ryko recording, The Weedkiller's Daughter, that they opened a show for Alex in their hometown of Buffalo, NY. They invited Alex out to party and ended up asking him to play on a track for the new CD. I was ecstatic about the recording but was crushed when Alex claimed to not know me, making me look like an idiot or liar to John and Mary. I talked to Mitch about it and he said not to bother with it, Alex had done the same to him and Chris Stamey after they had tried to help him.
By the time the CD was released and I had booked them as the support act for a Warren Zevon solo tour, we were to play at the great New Orleans club, Tippitina's, Alex had spoken to Mary and, as he had done with me several years before, insisted on booking a nice hotel for us but only this time – he paid for the rooms and would not accept reimbursement. He had finally gotten some revenue from The Bangles' recording of "September Gurls," and the use of the Big Star track, "In the Street" as the theme for the sitcom That Seventies Show.
We had just settled into our rooms when I took a little walk around the hotel and ran face to face into Mr. Chilton. In what was a bizarre exchange we did some small talk and he nervously asked for Mary's room number without ever acknowledging our brief but important, at least to me, history. I took him to John and Mary's room and John said, sarcastically, "Dan, have you met Alex?" I replied, "Yes" and Alex said, "We chatted a bit downstairs." I was mystified that all through dinner and for the show as I stood next to him in the crowd he never acted as if he knew me and refused to talk about Mitch and Chris even though they had recently been with him at a NC gig. I decided it was better to have had my experience with the master and with the direction of my life – which never would have happened had it not been for my pursuit of him.
I saw him perform a few times but never went backstage or tried to approach him. When Hurricane Katrina hit, he was the first person I thought of in New Orleans. The story goes that he spent three days on the roof of his house before being rescued by a helicopter crew. I have not spoken to anyone who can actually verify that but it sounds like great fodder for the Alex Chilton canon. Skipping ahead to St. Patrick's Day, 2010 and I return home from the NYC parade and some revelry when I check my email and there is a long newsletter from Bob Leftsetz, a curmudgeon but accurate critic of all things music biz. The entire post was all about Alex and, once again, I was happy for the recognition he was getting. When I reached the bottom of the piece, I saw the last line about Alex passing earlier in the day from heart failure while mowing his lawn in New Orleans. I couldn't get to sleep that night but I also didn't have the heart to put on any Big Star or Alex solo music. I waited until around 5:00 AM and called to London to inform my friend, BBC DJ and author Charlie Gillett about Alex when I was informed that Charlie has also passed away – within the same hour but two continents apart. I was numb for a couple of days until it actually hit me that two of my most influential people were gone. I was not in a minority of inspired musicians and writers touched by these men but I was truly blessed by the place each of them played in my life.