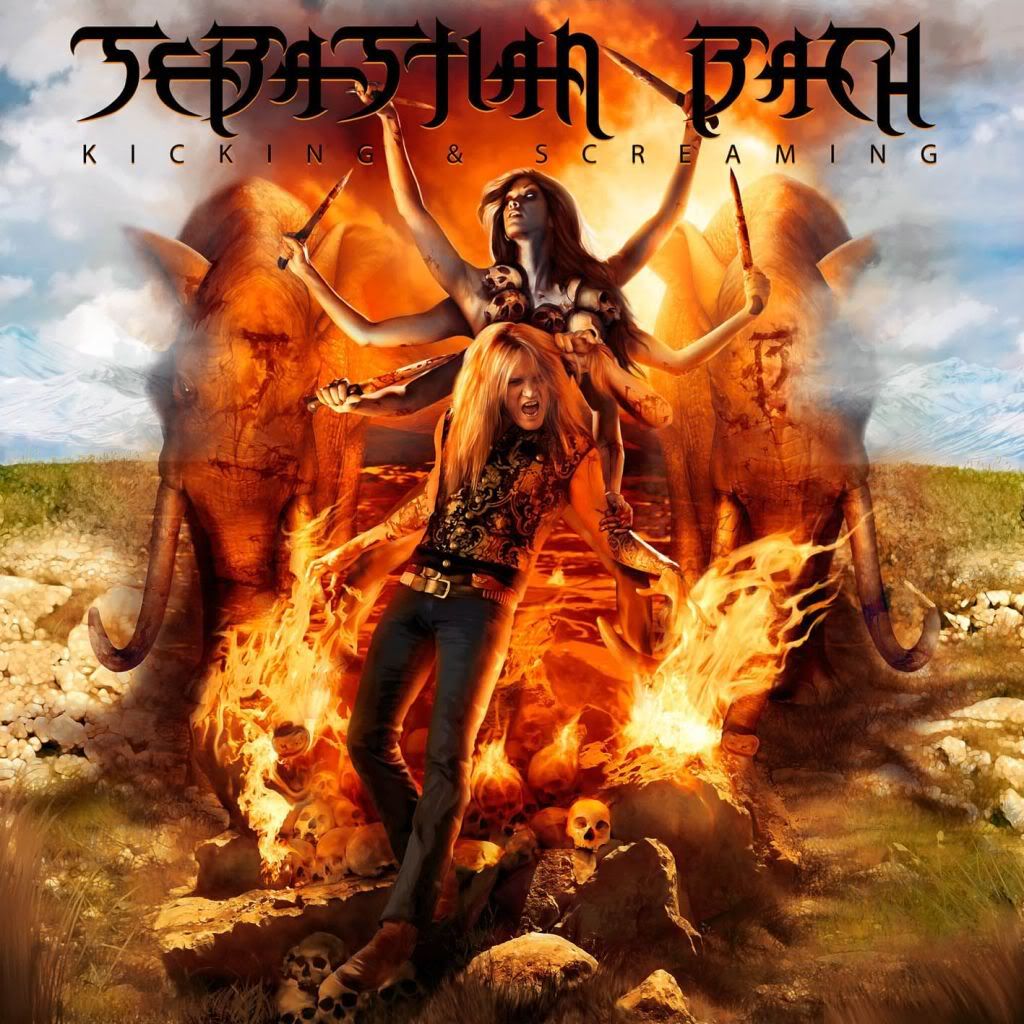 It's getting closer, kids! Today marks the day Sebastian Bach's single "Kicking And Screaming" is available for digital download on iTunes and Amazon.com, in anticipation of the September 27 release of his new solo album by the same name.
I reviewed the "Kicking And Screaming" video but wanted to do the song separately once I'd listened more and it was officially available. Joining Bach this time around is mega-talented guitarist Nick Sterling and veteran drummer Bobby Jarzombek (Iced Earth, Halford, Riot) who has been with him since 2005 and also played on 2007's Angel Down.
"Kicking" starts off loud, hard, and aggressive- just the way I like it. My blood is pumping furiously and my fight-or-flight instinct is on heightened alert five seconds into the song! This is excellent workout music.
The problems start when Bach starts singing, not because it's bad or unrecognizable but because it's forced. This is not Sebastian Bach doing what we know he can do and have come to expect. Yes, with hard living, age, and 30 years of screaming the voice changes and you can't always get where you once were (Steven Tyler on "Dream On" for example). But forcing the hell out of each note, literally squeezing the life out of it until it's a raspy mess, isn't pleasant to listen to. Not to mention his high notes have lost a lot, again I refer back to understanding it happens with time but Bach has acquired a nasally quality to his high notes that I first noticed when I saw him doing Jesus Christ Superstar in 2003. It's not so much that he can't hit those notes as it is he's changed the sound of them.
That being said, this is Sebastian freaking Bach and he's back in a big way (for him). He's paid his dues, he's funded his own music, and toured incessantly. The music is bass and drum driven and has a cool grinding quality to it that doesn't quite fit with Bach's wails and extended high notes. The songs are apparent after repeated listens and dissecting it but it still manages to work even if it feels a bit watered down by the multitude of generic, forgettable bands out there recycling similar sounds. I'm curious to see how it sounds alongside the other songs on the album.
Problems aside, download this to your iPod, go running. Try not to listen too hard to the lyrics- just go with beat and the warm, fuzzy feeling that only Sebastian Bach can deliver. Check back here for my full review of Kicking And Screaming.