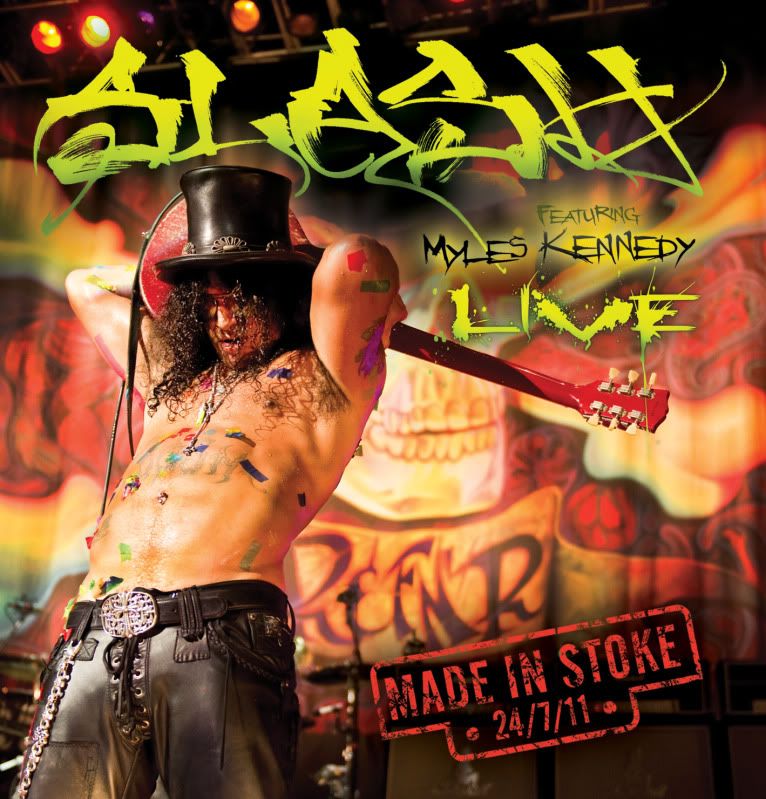 Who says you can't go home again? Legendary guitarist Slash returned to Stoke on Trent, England, where he was raised as a young boy to record his first-ever live solo album, Slash Featuring Myles Kennedy Live – Made In Stoke 24/7/11. The album offers a good mix of solo, Velvet Revolver, Slash's Snakepit and, of course, Guns 'N Roses tracks and features Alter Bridge's Myles Kennedy on lead vocals.
The set opens with "Been There Lately," a groove-laden Snakepit track with a killer riff that the band brought out specifically for the hometown show. It was one of two such tracks the band dusted off for the occasion, the other being "Beggars & Hangers On" from the debut Snakepit album. Kennedy's vocals are at once powerful and fit in with the classic rock vibe of the material.
Slash wastes no time reminding the listener of his roots as the second track is the GNR classic "Nightrain." The band offers a note-perfect rendition while Kennedy does his Axl Rose impression, having zero difficulty hitting Rose's high notes. The track is one of seven Guns 'N Roses songs featured in the show (eight if one counts the "Godfather Solo," which Slash debuted during his GNR days.
"Ghost," one of a number of tracks from Slash's self-titled solo album is up next. Kennedy does a good job on vocals without trying to sound like The Cult's Ian Astbury, who sang it on the album version. The song features a memorable, syncopated guitar riff and is one of the highlights of the disc. Meanwhile, "Mean Bone" finds the band back in Snakepit territory with its driving riff. Slash and the band, which includes Todd Kerns on bass, Bobby Schneck on guitar and Brent Fitz on Drums, do a good job of keeping the intensity up throughout the show with their hard-driving brand of rock 'n' roll.
The band closes the show with a number of energetic versions of Guns 'N Roses classics, including "Sweet Child O' Mine," "Mr. Brownstone" and "Paradise City." While the crowd is receptive throughout, it is these songs that get the best response. These songs are separated by the lone Velvet Revolver song, the driving "Slither" and "By The Sword," a bluesy track from Slash's solo album that originally featured Andrew Stockdale on vocals.
Slash has had a long and varied career spanning more than two decades. While fans may pine for a GNR reunion, that doesn't seem likely and they'd be missing out on a lot of great music Slash has been a part of in the interim. Live – Made in Stoke 24/7/11 is two discs of in-your-face rock 'n' roll played by one of rock's leading guitarists and well worth having.