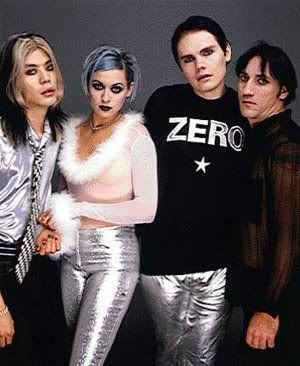 It's been a big year for re-issues from the alternative rock world as Nirvana re-issued their seminal Nevermind and U2 will issue Achtung Baby, both in honor of the 20th Anniversary of those records. Smashing Pumpkins is the latest band to launch a major re-issue campaign and the first two SP discs Gish and Siamese Dream will be released in deluxe editions on November 29.
Both titles will be released in multiple formats including a single disc, deluxe 2CD/DVD, vinyl LP, and various digital formats. Bob Ludwig remastered both titles. The vinyl editions have been specifically mastered for vinyl (making me concerned the non-vinyl mastering is going to be compressed to hell and overly loud).
The second disc for the two titles will include demos, rarities, and previously unreleased material. The DVDs will both feature live performances taken from the respective eras of the albums; the Gish DVD is a 1990 show from The Metro in Chicago while the Siamese Dream DVD was filmed at the same venue three years later.
Billy Corgan has been personally overseeing the re-issue project and mining the archives, frequently updating fans via his Twitter account (@Billy). Some of the material on the bonus discs sat in storage unmixed until now. Each bonus disc is 18-songs deep, reinforcing what SP fans have known for years: Billy Corgan is fucking prolific! Some of these are songs never before heard, others are alternate and demo versions.
The deluxe packages will come in lift-top boxes and will feature new liner notes and track-by-track commentary from Corgan. There will also be the usual swag and many exclusive photos of the band from the respective eras.
Here are the full tracklistings for the respective sets and a few notes about each.
Gish (1991) Disc 1: Original Album Remastered
I am one
Siva
Rhinoceros
Bury me
Crush
Suffer
Snail
Tristessa
Window paine
Daydream
Disc 2: Bonus Material
There are some really interesting items on the Gish bonus disc, including Butch Vig remixes of two singles SP issued for SubPop. There are also some recording session outtakes as well as demos, some for songs that made the album and some for those that didn't, and some radio sessions during promotion for the album.
Starla (2011 mix)
Siva (Peel session)+
Honeyspider (Reel Time demos / 2011 mix)
Hippy Trippy (Crush Music Box demo)
Snail (live radio performance)
Plume (2011 mix)
Bury Me (Reel Time demos / 2011 mix)
Daydream (Old House demo)
Tristessa (Sub Pop single / 2011 mix)
Girl Named Sandoz (Peel session)+
Jesus Is The Sun (Apartment demo)
Blue (Gish sessions demo)
Smiley (Gish sessions demo)
I Am One (Reel Time demos / 2011 mix)
Seam (Suffer / Apartment demo)
La Dolly Vita (2011 mix)
Pulseczar (Gish sessions demo)+
Drown (alternate guitar solo)
All songs previously unreleased except where indicated.+
DVD: Live at The Metro, Chicago, IL 8/25/90
This is going to be a highlight of the Gish re-issue: a chance to see and hear the band playing in front of the home crowd from the Gish tour. This is a snapshot of what they sounded like on stage from this point in their career. I'm not sure if this show has been bootlegged in audio form but I doubt there's much in the way of video from 1990 that has been officially released.
I am one
Snail
Rhinoceros
Bury Me
Tristessa
Window Paine
Razor
Sookie Sookie
Godzilla
Crush ñ Acoustic
Siamese Dream (1993)
Disc 1: Original Album Remastered
Cherub rock
Quiet
Today
Hummer
Rocket
Disarm
Soma
Geek U.S.A
Mayonaise
Spaceboy
Silverfuck
Sweet sweet
LunaOn
Disc 2: Bonus Disc I'm sure many of these songs have surfaced on bootlegs before but a lot of them are new to me, even the ones that were officially released and some of these are sure to be new to even the diehard Pumpkins fans.
Of particular interest to me is acoustic mix of "Disarm," which was a huge hit from the record and a personal favorite of mine.
We've also got some radio sessions, rehearsal demons, and a bevy of other rough cuts from the sessions.
Pissant (siamese sessions rough mix)
Siamese dream (broadway rehearsals demo)
STP (rehearsal demo)
Frail and bedazzled (soundworks demo)
Luna (apartment demo)
Quiet (bbc session/bc mix)
Moleasskiss (soundworks demo)
Hello kitty kat (soundworks demo)
Today (broadway rehearsal demo)
Never let me down again (bbc session)+
Apathyís last kiss (siamese sessions rough mix)
Ache (silverfuck rehearsal demo)
U.S.A. (soundworks demo)
U.S.S.R. (soundworks demo)
Spaceboy (acoustic mix)
Rocket (rehearsal demo)
Disarm (acoustic mix)
Soma (instrumental mix) All songs previously unreleased except where indicated.+
DVD: Live At The Metro, Chicago, 8/14/93 Once again, it's the DVD that makes the super deluxe set most interesting to me.
Siamese Dream debuted in the Top 10 when it was released in July of 1993. This show was filmed at the same venue as the 1990 show in the Gish package. My memory has gotten foggy and I don't know how big the Pumpkins phenomenon had grown by the time this show was filmed in July, but it was building even if it hadn't reached fever pitch. This is a chance to go back in time and hear the band when the legend was being created. That's the kind of time capsule that makes these packages special.
Rocket
Quiet
Today
Rhinoceros
Geek U.S.A.
Soma
I am one
Disarm
Spaceboy
Starla
Cherub rock
Bury me
Hummer
Siva
Mayonaise
Drown
Silverfuck
It is a drag getting old but re-issues like these and the Nirvana 20th Anniversary Edition (my Super Deluxe Edition arrives Monday) make it a little easier to take (provided you ignore things like "20th Anniversary). Siamese Dream is an essential '90s classic so I'm going all-in on the deluxe edition. I like Gish, I love Siamese Dream. I'm non-committal on my purchase plans for it. The real highlight for me in these sets are the live DVDs. I'm sure there will be plenty of great songs from the archives but it's the vintage live performances that interest me most.