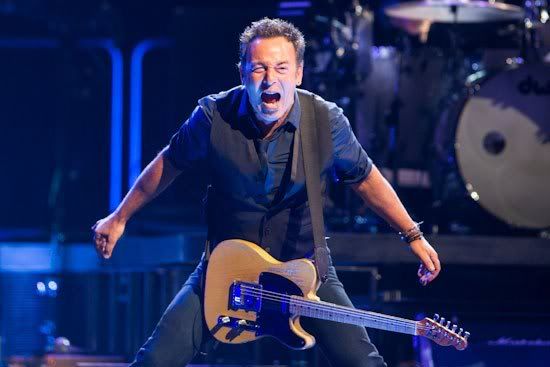 Recent setlists from Bruce and the E Street Band have gotten increasingly diverse and adventurous while remaining a means of promoting his new Wrecking Ball CD. I figured the band returning to its famed stomping grounds of New Jersey (wait... you didn't know Springsteen was from Jersey?) would be a catalyst for a night filled with big surprises and audibles galore... and I was wrong.
Now let's not be hasty; there was a tour premiere last night but in recent days he's been dusting off two or three premieres a night. Not last night for the home team. Maybe it's because he's played every song he's ever written at a Garden State venue at one time or another. Maybe he just wasn't feeling. Whatever it was, this set list won't be one of the more memorable.
Prior to the show, a friend suggested this might be the night "Jungleland" comes out. I admitted it was a good hunch but didn't think it likely. It did make me wonder as I followed set list updates throughout the night on Twitter. Alas, I was right (yes, I know, a real Nostradamus) but once again Bruce shocked me with the song he did bring out for the first time this tour: "So Young And In Love" from Tracks. You can thank Bro. Steven Van Zandt for that one as he's reportedly said the second disc of Tracks is his favorite Springsteen album.
Outside of that, we got the return of "Badlands" and "The Promised Land" to the set, "American Skin (41 Shots)" remains in the set, and "Seeds" was revived after a few nights off. I was excited to see "Because The Night" again in the set list. I've just got to hear that one because not only is it among my Springsteen favorites, it's also a Nils Lofgren showcase and Nils is a serious badass.
So there you have it, kids, live from the swamps of Jersey. Maybe he held back the surprises for Night 2 tonight at the same venue. You can bet your ass I'll be following it and we'll touch Indians tomorrow and see what changed and what didn't.
Bruce Springsteen & The E Street Band
April 3, 2012,
E. Rutherford, NJ (Night 1)

We Take Care of Our Own
Wrecking Ball
Badlands
Death to My Hometown
My City of Ruins
So Young and In Love
E Street Shuffle
Jack of All Trades
Seeds
Prove It All Night
Easy Money
Waitin' on a Sunny Day
The Promised Land
Apollo Medley
American Skin (41 Shots)
Because the Night
The Rising
We Are Alive
Thunder Road
### ### ###
Rocky Ground (with Michelle Moore)
Out in the Street
Born to Run
Dancing in the Dark
Land of Hope and Dreams
Tenth Avenue Freeze-out