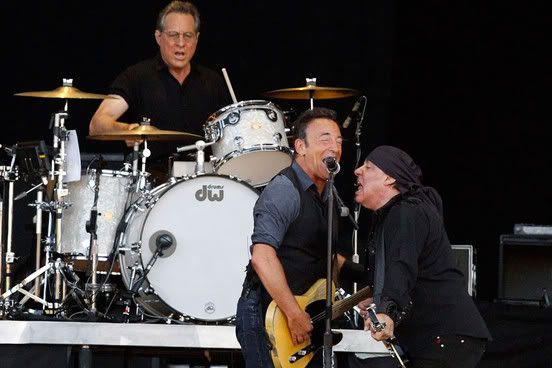 Good night, Vienna! Wow. What a night.
These set list reviews and commentaries I write are difficult for me because they're part of an ongoing conversation I've been having about Bruce Springsteen and his music going back several years and many of you join that discussion already in progress. The truth is even though he sometimes does things that make me want to throttle him (Albany, Milan, Zurich, Atlanta, and nights I skipped because I couldn't summon the outrage to be bothered), he has those inspired moments of magic and genius. I wouldn't bother commenting on Bon Jovi setlists because the only thing that fool could do on any given night to please me is get laryngitis and cancel the show.
There are a few dud moments in this show and I'm not going to go without mentioning that I did, in fact, notice them but thanks to some inspired for a change sign requests and Bruce's good mood, we got a show with some very special moments.
The stretch of this show from song five through 10 is about as good as anything he's done on this tour and he comes back with a winner at 12 (sandwiched in between a new Wrecking Ball song and a turd he managed to screw up). Let's take a look at this: "My City Of Ruins," "Loose Ends" and "Rendezvous" from Tracks, "Empty Sky," and "Trapped." I got "Loose Ends" in Nashville a few years back and it was exceptionally cool. "Rendezvous" is another favorite of mine. I love seeing "Empty Sky" played because Bruce has only been playing three songs from The Rising and only the title track should be one of them (I'm glaring at you "Lonesome Day" and "Waiting On A Sunny Day"). The Rising isn't his best album but there are some really good songs that deserve to be played more often than they are and "Empty Sky" is among them. "Because The Night" outclasses its predecessor and successor "Jack Of All Trades" and "Darlington County by an incalculable factor.
Speaking of albums that have been tragically ignored, we get something from Tunnel Of Love finally and it's not one of the two obvious tracks (the title track and "Brilliant Disguise). "Tougher Than The Rest" was performed tonight, and it was done solo piano. There better be a YouTube clip of this and if there is you can bet your ass we'll post it. Ever since the 4th of July show in Paris, Bruce has been doing a solo piano slot towards the end of the main set. This is what we call a good idea. It's about time he had one. This is a tour highlight right here, kids. I'd cut someone to have been there for this. Shit, he played "Racing In The Street" right after this. Price. Of. Admission.
Hell, I'd cut someone to have been at this whole show. There are a few moments that make me want to banshee wail but overall, Vienna has one of the best nights of the Wrecking Ball tour.
We Take Care of Our Own
Wrecking Ball
Badlands
Death To My Hometown
My City of Ruins
Spirit In The Night
Rendezvous
Loose Ends
Empty Sky
Trapped
Jack of All Trades
Because the Night
Darlington County
Workin' On The Highway
Shackled & Drawn
Waitin' On a Sunny Day
Raise Your Hand
Tougher Than The Rest (solo piano)
Racing In The Street
The Rising
Lonesome Day
Land of Hope & Dreams
### ### ###
We Are Alive
Born in the USA
Born To Run
Hungry Heart
Glory Days
Seven Nights to Rock
Dancing in the Dark
Tenth Avenue Freeze Out
Twist and Shout