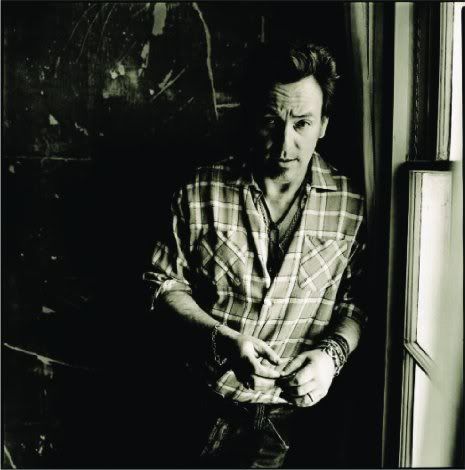 Maybe one day I'll lose interest in giving the finger to the namecallers and hecklers who doubt me but being right in the face of wrongness hasn't lost its appeal.
I was very critical of Springsteen's opening night set list in Atlanta for being unimaginative and predictable. I was more complementary something one reader missed the next night when he made just a couple of minor adjustments to his Greensboro set list.
Bruce played his third show in a five day span and he took a blowtorch to the setlist and shook things up while maintaining a focus on songs from his new Wrecking Ball album, making what he did to my good friend and his fellow Atlanta attendees all the more unforgivable. They're the E Street Band, kids. Expect more because they can deliver it.
Let's talk Tampa where for the first time in and I'm not giving way to hyperbole here I don't know how long, "Badlands" was punted from the setlist. I wish Bruce had gone for something a little more obscure from Darkness On The Edge of Town than "Prove It All Night," but it's a good song and a showcase for his own guitar skills and something he and Stevie Van Zant have fun doing together.
That was surprising but not near as shocking as following "My CIty Of Ruins" with "Does This Bus Stop at 82nd Street" from his 1973 debut. If that was a shocker, I've run out of words for what he did next. "Talk To Me" is a song Bruce wrote for his friend Southside Johnny, who recorded it for his Heart Of Stone album. Bruce has played the tune with Southside Johnny and he's played it a small handful of times at the Stone Pony in Asbury Park at warmup shows. Some internet research my sidekick and I did suggests to us this is the first time he's played it on a tour proper, if you will. The point here, kids, this is both rare and obscure. He played it, kids, three shows into his new tour. If he can play something he's "never" done before this early in the tour, he can do anything.
Moving on, we get the tour premiere of "Atlantic City" and its less inspiring companion "Easy Money." This is so obvious and I can't believe he didn't start the tour like this. "Easy Money," from WB, is reminiscent and derivative of the Nebraska classic. If he's only going to play one, he should play "AC." Playing them together like this is a nice touch. A little thought, a little effort, a better show. He's been doing this for awhile and he's making my case for me: this ain't so bar band from Dubuque, it's the E Street Band. Anything is possible.
Now I've had my (mostly) good-natured fun poking eyes and tweaking noses about shaking the set list up and being heckled for my commentaries but we're going to put the teasing, taunting, and posturing on hold for this next tour premiere...
The nation has been transfixed by the tragic shooting of unarmed Florida teenager Trayvon Martin by a man who is part of an unofficial neighborhood watch program and Springsteen played "American Skin (41 Shots)," a song that told the story of an unarmed man being shot to death by police officers in New York. I have to imagine this was an incredibly powerful moment during the show. According to accounts from those who were there, Bruce never specifically mentioned this tragedy during the show but that which is understood need not be explained. I hope I speak for everyone when I say I wish this one hadn't been played at all, or if it had been played it was for no particular reason at all. It's a tour premiere, a riveting song, but you'll see no celebration here. There are still a lot of questions to be asked. I'm afraid we're not going to get many answers and just as afraid we're not going to like the ones we get.
Moving on to the rest of the set list, "Radio Nowhere" got its tour premiere and led into "The Rising," a 1-2 punch I'd love to see happen more often throughout the tour. They're lead singles and great slices from this chapter of the E Street Band's more recent work. Play the new stuff, Bruce, but play the right new stuff!
The encore was very similar to Greensboro but instead of "Rosalita" in the former "American Land" slot, it was "Glory Days" (yet another tour premiere). I can't begin to describe my feelings at the irony of Bruce having closed two tours with "American Land" and then after finally putting the song on an album, he stops doing it after one show. I'm thrilled and grateful to once again have the feeling you never know what could happen on any given night with the E Street Band.
Setlist:
We Take Care of Our Own
Wrecking Ball
Prove It All Night
Death to My Hometown
My City of Ruins
Does This Bus Stop at 82nd Street?
Talk to Me
Jack of All Trades
Atlantic City
Easy Money
Waitin' on a Sunny Day
The Promised Land
Apollo Medley (The Way You Do The Things You Do/634-5789)
American Skin (41 Shots)
Radio Nowhere
The Rising
We Are Alive
Thunder Road
### ### ###
Rocky Ground (with Michelle Moore)
Land of Hope and Dreams
Born to Run
Dancing in the Dark
Glory Days
Tenth Avenue Freeze-out