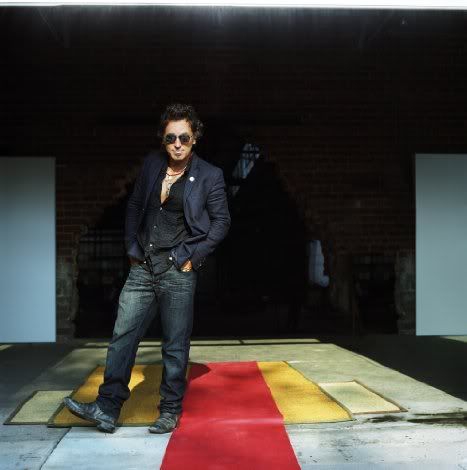 I knew I was going to do it at some point. I started in with it in Atlanta but I held back. I want it said from the outset I'm not surprised, I am angry. I would be angrier but the atrocity was committed against Philadelphia and that's one of my forbidden cities- sucks to be them. That doesn't mean Bruce Springsteen's actions were not depraved and indecent and must therefore be held up for scorn and ridicule. Those of you sensitive sycophants should skip ahead a few paragraphs where I will rave about some of tonight's happenings. The rest of us who mastered pottytraining, eating without a bib, and drinking without sippy cups will continue.
This was the first two-night stand of the Wrecking Ball tour. It's understandable and reasonable he would play songs from his new record both nights. It's understandable he would repeat some of the classics of the Springsteen songbook that fans pay to hear. What's neither understandable or reasonable is playing "Waiting On A Sunny Day" both nights of a two-night stand. Fuck that to death.
My outrage overflows, my anger knows no bounds, my bewilderment is infinite. I would prefer hordes of locusts and a hip hop remix of Barbra Streissand's greatest hits. Who am I kidding? What's the fucking difference? One night. One night. He really can't let that teeming piece of shit song sit on the bench for one night? Would it really kill him to play something else? It's not like he hasn't played it every night this tour, including last night in this same city! He gave "American Skin" a night off. "Waiting On A Sunny Day?" Noooooooooo. Can BruceFans really not attend a show where some mouthbreather's kid doesn't come on stage and sing with him while the horn section makes balloon animals and the background singers pantomime YMCA? There's simply no acceptable reason for this and I'm not prepared nor apparently able to let it go.
Moving on to the rest of the night, there were some great tour premieres tonight and no, Philadelphia did not get "Incident on 57th Street." They did get "Kitty's Back" and I'm incredibly jealous. According to one attendee, the performance was brilliant. The members of the horn section each took a solo and at one point pianist Roy Bittan and drummer Max Weinberg riffed off one another. I've always liked this song and really took to it even stronger when I saw the live version on the Hammersmith-Odeon DVD included in the Born to Run 30th Anniversary Edition. It matters to no one but I listened to that version today and then it comes out in Philly tonight. I'd love to hear this one some day. "Darkness On The Edge Of Town," "Trapped," and "Night" also came out as tour premieres as did "Streets Of Philadelphia."
Another notable from tonight's show is several members of the Springsteen extended family were in attendance, including his mom. Bruce's mom got to be Courtney Cox for a night, dancing with her son during "Dancing In The Dark."
The setlist is overall really strong save for the one felonious offense. "Thundercrack" was also played tonight along with the other highlights. The set list was a song or two shorter than some other nights but "Thundercrack" and "Kitty's Back" are longer songs so I doubt seriously anyone in Philly felt shortchanged.
Bruce Springsteen & The E Street Band
March 29, 2012,
Philadelphia, PA
We Take Care Of Our Own
Wrecking Ball
Night
Death To My Hometown
My City Of Ruins
Thundercrack
Jack Of All Trades
Trapped
Easy Money
Prove It All Night
Darkness On The Edge Of Town
Waiting On A Sunny Day
The Promised Land
Apollo Medley
Streets Of Philadelphia
The Rising
We Are Alive
Thunder Road
### ### ###
Rocky Ground
Kitty's Back
Born To Run
Dancing In The Dark
Tenth Avenue Freeze Out