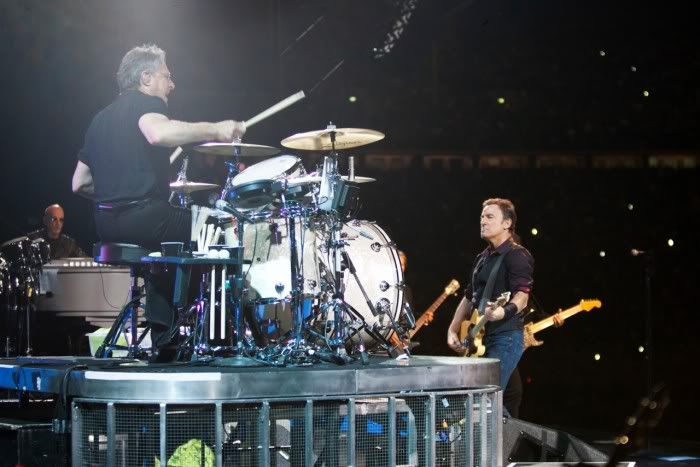 Bruce Springsteen brought his Wrecking Ball tour to the Isle Of Wight festival today and as festivals rules were in play, we have a shorter show than much of the European leg of the tour.
The one-two of "Atlantic City" and "Because The Night" would have set my soul on fire and I can't begin to fathom how I'd have felt when he segued from them to "Working On The Highway." Bewildered. Betrayed. A dimension of angry I'd never before experienced in my life? I'll tell you what I wouldn't have been: surprised. He'll do it to you every time. I sure as hell would have loved those first two, I promise you that.
There really aren't any surprises to speak of in the rest of the set and you have to chalk that up to this being an abbreviated show at a festival. "The River" and "The Rising" is still a great twosome and I'm very glad he stumbled onto it. I wish he'd left "Lonesome Day" on the bench rather than moving it earlier in the set but I still like that combination a lot.
"Born To Run" and "Born In The USA" kick off the encore that also included "Glory Days," "Dancing In The Dark," and "Tenth Avenue Freeze Out." I'm glad to see "Glory Days" in there as well. It's one of the hits Bruce seems to have an aversion to. There was a good while he didn't play it at all and now it's not particularly frequent.
In sum, not a bad way to spend an afternoon if you can get yourself mentally prepared for a festival atmosphere- something I can't see myself ever doing.
Here's the E Street Band setlist from the Isle Of Wight Festival for your perusal:
Badlands
No Surrender
We Take Care of our Own
Wrecking ball
Death To my Hometown
My City of Ruins
Spirit in the Night
Lonesome Day
Jack of All Trades
Atlantic City
Because The Night
Working on the Highway
Shackled and Drawn
Waitin' On A Sunny Day
The River
The Rising
Out in the Street
Land of Hope and Dreams
We Are Alive
Born in the U.S.A.
Born To Run
Glory Days
Dancing in the Dark
10th Avenue Freeze-Out