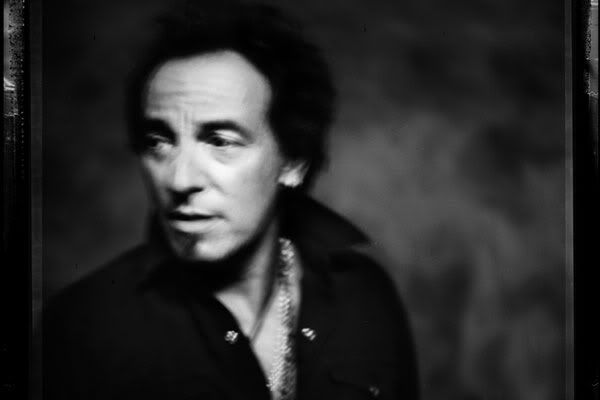 Bruce Springsteen & The E Street Band resumed their Wrecking Ball World Tour last night after several days off with a stop in San Jose, CA, one of the few West Coast dates officially scheduled (I continue to believe there's going to be a full-run of US dates when the European leg ends but nothing has been confirmed).
The time off didn't energize Bruce's imagination where the setlist is concerned. It was a solid group of songs considering he is still in the phase of pushing material from the new album. There weren't any big surprises or tour debuts but there were a few big moments sprinkled throughout the set and the turds we're just going to have to endure until someone finally applies brick to the side of his head with proper amounts of force and malice.
"Thundercrack," "Backstreets," and "Rosalita" are the clear highlights of the set. I like "Murder, Inc." and "My Love Will Not Let You Down," the former having been played a lot since the reunion tour while the latter has been far less frequent. Neither is going to make or break a show for me but neither would tempt me to head for the bathroom or the beer line, either. For the record: I've never gone to the bathroom during a concert out of necessity or boredom but I've considered it. Oh, yes. I've definitely considered it.
The disappointments in the setlist for me are "Out In The Streets" and "Lonesome Day," two good songs that have been played too often over the past several tours. I'd really like to see "Badlands" or "The Promised Land" -- two songs I love -- take a short break on the condition they are replaced by other Darkness songs that don't get played ("Candy's Room," "Adam Raised A Cain," "Racing In The Street," "Something In The Night"). I'm never going to complain about hearing "Badlands" or "The Promised Land" but Bruce has relied on them too heavily to represent his classic Darkness album. It's time to give one or both of them a breather and let these other songs get some playing time. Do it for the kids, Bruce. I'm told the kids want to sing along to "Racing In The Streets" more than "Waiting On A Sunny Day!"
There are but four US tour dates left of this leg. Tomorrow begins the first of a two-night run in Los Angeles and then the E Street Band will play the New Orleans Jazz & Heritage Festival followed by one more show in New Jersey (this time in Newark).
Okay, here's the full rundown of last night's show in San Jose:
Bruce Springsteen & The E Street Band
April 24, 2012
San Jose, CA
We Take Care of Our Own
Wrecking Ball
Badlands
Death to My Hometown
My City of Ruins
Thundercrack
Jack of All Trades
Murder Incorporated
Johnny 99
My Love Will Not Let You Down
Shackled & Drawn
Waitin' on a Sunny Day
The Promised Land
Backstreets
American Skin (41 Shots)
Apollo Medley
The Rising
Lonesome Day
We Are Alive
Thunder Road
### ### ###
Rocky Ground
Out in the Street
Born to Run
Dancing in the Dark
Rosalita
Tenth Avenue Freeze-out