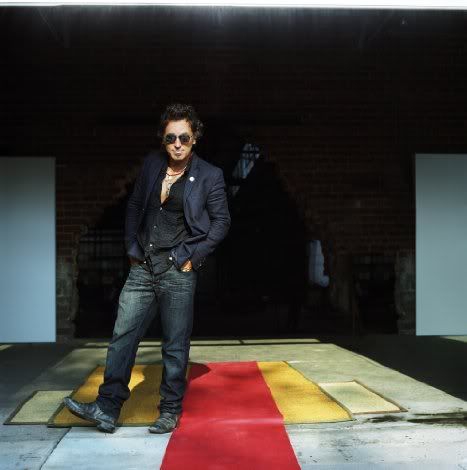 Time to revive a time-honored tradition and staple of my freelance writing career: the Bruce Springsteen set list commentary.
Why do I do it? I love Bruce, I love his music, and love writing and talking about both. I wish I had the resources to follow the E Street Band around the world; I don't. I've been to many shows and traveled great distances to do so but I'm a working stiff, so this is water cooler talk for Bruce fans wherein we say to each other "Did you see what Bruce played last night?" and discuss the good, bad, and ugly. I've been asked many times how I can review a show I didn't attend and the answer to that is simple: I can't. This isn't a review of the show.
Another thing that often comes up is the silly notion I'm not a true Springsteen fan because I'll use terms like "unforgivable," "warhorse," "dead horse," "turd," and "warcrime" in conversations about Bruce. Agree to disagree. It seems there are some people in this world (and in my experience Springsteen fans have been among the worst about this) who are immune to nuance. They'll jump on those phrases and selectively miss or ignore the laudatory praise and rejoicings. That limitation is a problem, not mine.
With the introductory preamble and disclaimers laid, let us turn our attention to the official kickoff of Bruce Springsteen's Wrecking Ball tour.
It was a 2 hr 35 min, 24-song affair at Phillips Arena and ten songs from the new album were played tonight: "We Take Care," "Wrecking Ball," "Death To My Hometown," "Jack Of All Trades," "Easy Money," "Shackled & Drawn," "We Are Alive," "Rocky Ground," "LOHAD," and "American Land." Three of the show's first four songs were newbies with "Badlands" being worked in among them.
Let's stop there. I love "Badlands" and I'm not sorry Bruce still plays it but I wish he'd broaden up the number of songs from Darkness On The Edge Of Town he's willing to make a part of every single show. I've seen him six times and he played "Badlands" and "The Promised Land" at all of them. Those two were once again the only tunes from Darkness.
Before the band's "warm up show" at the Apollo Theater, I bet my friend "My City Of Ruins" would return to the setlist and indeed it did. It's such a powerful song and with the tone of Wrecking Ball, it's a no-brainer for these shows. I'd love to hear that one live one day. He transitioned from "City" to the one song in this set list I'd sell someone's soul to hear: the lazy "E Street Shuffle" built on Detroit muscle. I've long had an affection for that tune and with this being the first tour since the passing of legendary sax man Clarence Clemons and Dan Federici's passing still being fresh in the minds of fans everywhere, this is a perfect time and manner to celebrate this great band.
We get a couple more songs from WB with "Jack Of All Trades" and "Easy Money" along with "Seeds," a song that appears only on the live box set Springsteen released in the '80s. Let's stop here again. "Seeds" is a rockin' ass song and like with "City," it's thematically perfect for a show on this tour. The problem is this was played extensively (and exhaustively) on the Working On A Dream tour and it's not as if Bruce lacks for songs about the downtrodden blue collar workers of the world ("This Hard Land" would be a grand idea).
We now enter the part of the show that would have caused me to commit homicide, or go to the bathroom. Folks who attended the show provided feedback on Twitter and I'm reporting what they said: people sat down during "Jack" and "Seeds" but rose to their feet for "Waiting On A Sunny Day."
I would have risen to my feet, too- so I could take better aim with the brick I'd be aiming at Mr. Springsteen's head or to hit the head and relieve myself. Once again, he brought someone onstage to sing along (I've heard conflicting reports on whether or not it was a child, which has been the norm for this song). He just won't let this turd go and I'm not done being angry about it. It's a hack rewrite of "Hungry Heart" and should have been clubbed to death after The Rising yet it continues to plague us.
This song seems to divide the fans as I noted many apparently rose to their feet to revel in its mediocrity while many others on Twitter wept bitterly that this song will mar more shows.
Fortunately, Bruce doesn't have a new bitter, angry, political album he just released which means he has time to pretend he's Smokey Robinson and can still do his Soul Man revue. What's that? Wrecking Ball is the angriest album of his career? Than what the fuck is he doing crowd surfing to "The Way You Do The Things You Do" and "634-5789"? I'm not anti-fun at a rock and roll show. I'm not anti-fun at a Bruce show. I do wish he'd mine his own catalog and realize he has some gems that are a metric buttload of fun and play some of those. There are plenty of shitty performers who can pretend to be Smokey. Why can't Bruce leave that to the amateurs?
Social media can be a real drag but I got a laugh when some of the Twitter folk referred to "Lonesome Day" as "The Rising, Part 1." Sure to form, he followed "LD" with "The Rising." I like them both, particularly "The Rising" its ownself. It, too, has a place in this kind of show but can he really not put "Lonesome Day" down? Making matters worse is Bruce had written "She's The One" on the set list for the "Lonesome Day" slot but called an audible. The offensive coordinator and quarterback's coach are going to have to have a little talk with The Boss about what he was seeing at the line of scrimmage when he made that decision because it was wrong. The main set closes out with "We Are Alive" and "Thunder Road."
The encore was... disappointingly unimaginative. I probably could have gone 6-6 trying to guess which songs would be played (better than I did on my March Madness bracket). Some of that's because he's been playing the same encore for two tours, some of it's because there are a few gems that scream to be played during the final sequence.
"Land Of Hopes And Dreams" is an incredible live song and I pined for it and was glad to get it last tour. It's now officially on a Springsteen studio record so it's no surprise to see it here. The same can unfortunately be said for "American Land," or "No Cats In America" as I will continue to call it. Shit, he's bringing kids on stage. Why not have someone dress up like Feivel while they horn section and background singers do face painting and balloon animals for the little darlings?
So there we have it, kids. The first show is in the books. There were some high points for sure and some spots that just don't make sense. I'm not sure how disappointed I am that I couldn't come up with the money to make the four-hour trip to Atlanta to see this one. I'd love to have heard "E Street Shuffle" and "My City Of Ruins."
I mentioned my March Madness bracket and it all comes full circle because the arena in Greensboro, NC once again hosted several games in the first round of the Men's NCAA Basketball tournament. It will now host the E Street Band for night two of the tour on March 19. We'll do this again soon, kids.
Here is the full set list for Bruce Springsteen's 3/18/12 set in Atlanta, GA:
We Take Care Of Our Own
Wrecking Ball
Badlands
Death To My Hometown
My City Of Ruins
E Street Shuffle
Jack Of All Trades
Seeds
Easy Money
Waiting On A Sunny Day
The Promised Land
The Way You Do The Things You Do
4-5789
Shackled & Drawn
Lonesome Day
The Rising
We Are Alive
Thunder Road
### ### ###
Rocky Ground
Land Of Hopes & Dreams
Born To Run
Dancing In The Dark
American Land
Tenth Avenue Freeze Out