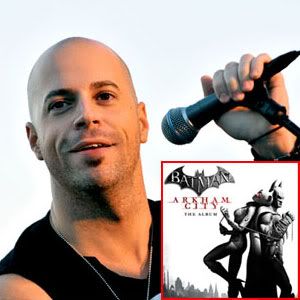 Chris Daughtry -- the original "shocking elimination" on American Idol -- has contributed a song to the new Batman video game and you can stream it here.
Daughtry is one of 11 artists contributing songs (full tracklisting below) to the accompanying soundtrack Batman: Arkham City—The Album. The album is available for download October 4, while Batman: Arkham City (the game) is available two weeks later on October 18.
Daughtry's contribution to the soundtrack is "Drown In You," which starts well enough with generic, soft rock riffs and raspy vocals which I guess is Daughtry's "thing." I listened through three or four times then dug up the lyrics and noticed there aren't any overt or even obscure Batman themes anywhere to be found. "Drown In You" is a totally subpar song that could be on any "rock" band's album or go on any movie's soundtrack. Despite the personal feeling in the title, there isn't an ounce or feeling or substance in the song. But I have a feeling if you're a Daughtry fan you're already accustomed to that.
He has done pretty well for himself despite coming in fourth during AI Season 5, becoming the third highest selling former Idol contestant of all time, behind Kelly Clarkson and Carrie Underwood (who both won their seasons) and I'm sure "Drown In You" will make great background music as you or the gamer in your life is lurking in the shadows and taking down bad guys. As an added bonus, when you buy the collector's edition of Batman Arkham City (the game) you get an album download code along with additional bonus content.
The full track listing:
1. Panic! At The Disco "Mercenary"
2. Coheed and Cambria "Deranged"
3. The Duke Spirit, "Creature"
4. Black Rebel Motorcycle Club "Shadow on the Run"
5. Blaqk Audio "Afterdark"
6. The Raveonettes, "Oh, Stranger"
7. ††† (Crosses) "The Years"
8. The Damned Things "Trophy Widow"
9. Daughtry "Drown In You"
10. The Boxer Rebellion "Losing You"
11. Serj Tankian "Total Paranoia"