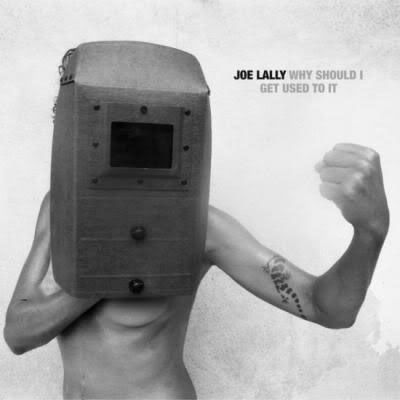 Fugazi is one of those bands I know by name, but not by sound. They had a reputation for not only being one of the great post-hardcore bands but also the most ethical. They sought to keep their concert prices exceedingly low, and discouraged slam-dancing and fighting at their concerts (going so far as to keep envelopes of $5 bills in their tour van as a refund when they had to kick out unrepentant dancers.)
As such I knew who they were by reputation but never really got into their music. I think I had Repeater for awhile in college but didn't give it enough spins to be able to name a song all these years later.
Since 2003 Fugazi has been on indefinite hiatus, which has allowed each member to play on solo and side projects. Founding member, and bassist Joe Lally has released three solo albums since the hiatus including Why Should I Get Used which was released this past April.
"What Makes You" contains - not surprisingly - some big bass leads. What is surprising, at least to me (someone who admittedly isn't at all familiar with Fugazi's sound,) is how non-heavy it is. I was expecting something a little more, well if not hardcore then at least a bit ferocious, but this isn't that. The bass lines are a bit heavy and there's a bit of discordant energy and pulsing beats, but overall its something my mother wouldn't object to which is not at all what I expected when I first plugged it in. But that has more to do with my expectations when I hear the words "Fugazi's bassist" than anything to do with the music.
The music is good- hear for yourself. "What Makes You" has a sort of minimalistic feel with just a driving bass line, a pulsing plink and Lally's plain, spoken-word style vocals. Its got enough oomph to wake this tired slob up on a Monday morning but not quite enough to get me kicked out of the office with a $5 envelope.
You can purchase the new record anywhere music is sold. You can learn more about Joe Lally on his website. You can see Joe Lally on tour at the following venues:
September 08: Tokyo, Japan - Shibuya O-East
September 10: Yokohama, Japan - B.B. Street
September 11: Tokyo, Japan - Shibuya O-Nest
September 12: Nagoya, Japan -Tokuzo
September 13: Osaka, Japan - Sunsui
September 14: Kobe, Japan - Helluva Lounge
September 15: Kochi, Japan - Chaotic Noise
September 16: Hiroshima, Japan - Club Border
September 17: Tokyo, Japan - Koiwa Bush Bash
September 30: Sao Paulo, Brazil - CCSP

October 1: Recife, Brazil - Santander Cultural
October 2: Porto Alegre - Santander Cultural
October 3: Rio de Janeiro, Brazil - Audio Rebel
October 4: Sao Jose dos Campos - Hocus Pocus
October 5: Suzano, Brazil - Teatro de Suzano
October 6: São Paulo, Brazil - Serralheria
October 7: Ribeirão Preto, Brazil - Fnac
October 8: Goiania, Brazil - TBA
October 9: Buenos Aires, Argentina - Salon Pueyrredon

November 5: Austin, TX - Fun Fun Fun Fest
November 6: Dallas, TX - Bryan Street tavern
November 7: OK City, OK - ACM@UCO Performance (opening for Boris)
November 8: Kansas City, MO - Record Bar
November 9: St Louis, MO - Off Broadway
November 10: Chicago, IL - Schuba's Tavern
November 11: Pontiac, MI - The Vernors Room
November 12: Toronto, Ontario - Drake Hotel
November 13: Montreal, Quebec- Casa del Popolo
November 14: TBA
November 15: Allston, MA - Great Scott
November 16: New Haven, CT - Bar Night Club
November 17: Brooklyn, NY - Knitting Factory
November 18: Philadelphia, PA - Kung Fu Necktie
November 19: Baltimore, MD - Golden West Cafe
November 20: Washington, DC - Black Cat